Dokumentärer om fotografer är ett ekonomiskt alternativ till att köpa dyra fotoböcker. Den här dokumentären handlar om Sebastião Salgado som har lagt 40 år på att fota mänsklighetens avigsidor. Säkert finns det någon av alla dessa starka bilder som du sett förut. Regissören Wim Wenders (Himmel över Berlin, Buena Vista Social Club) har skapat en lågmäld film om en lågmäld, ödmjuk fotograf. Det är närmast meditativt och jag rekommenderar ett stadigt sockerintag, så du inte slumrar till, för du vill inte missa något här.
Sebastião har rest runt som en nomad och fotat katastrofer, krig och död. Det får en att fundera på om man själv skulle våga, hur långt man är beredd att gå för en bild. Det jag aldrig riktigt fick svar på var hur han finansierade sina resor, i varje fall i början. Vissa av projekten han tagit sig an har tagit flera år, också något att tänka på när man reflekterar över sina egna tillkortakommanden. Det är en långsam film, så man har tid att fundera och man vill också ha tid att studera bilderna. Ofta är de fulla med detaljer som nästan inte går att ta in,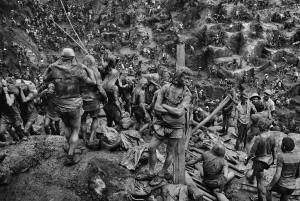 som bilderna på myllret av 50 000 människor i guldgruvorna i Afrika.  Inte ett ljud av en maskin, bara av alla dessa röster. Människor som är där frivilligt, men drabbade av guldfeber. Som han själv säger, det tar en tillbaka i historien till dom som byggde pyramiderna, Colosseum…
Till slut tröttnade han på allt elände och ägnar sig nu åt att fota naturbilder och driver en nationalpark. Ett fascinerande liv och en fascinerande film. (8/10)
Documentaries about photographers is an economic alternative to expensive photo books. This documentary is about Sebastião Salgado who has spent 40 years covering the adversities of humanity. Surely there is some of these strong images that you've seen before. The director Wim Wenders (Wings of Desire, Buena Vista Social Club) has created a low-key movie about a low-key, humble photographer. It's almost meditative and I recommend a steady flow of sugar to stay awake, you don't want to miss anything here.
Sebastião has travelled the world shooting catastrophes, war and death. It makes you wonder about your own courage, how far you are willing to go for a picture. What was never really answered was how he financed his trips, at least starting out. Some of his projects took several years to complete, also something to consider when one is dwelling over one's own short comings. It is a slow movie, so there is time to think. And you also get time to study the images. Often they are full of details, too many to take in. Like the pictures of the gold mines in Africa. 50 000 people in a big hole in the ground. No sounds of machines, just the voices of men stricken by gold fever. As he says in the movie, it takes you back in time, to the men who built the pyramids, the Coliseum…
Eventually he grew tired of all the misery and now he is shooting nature and runs a national park. A fascinating life and a fascinating movie. (8/10)