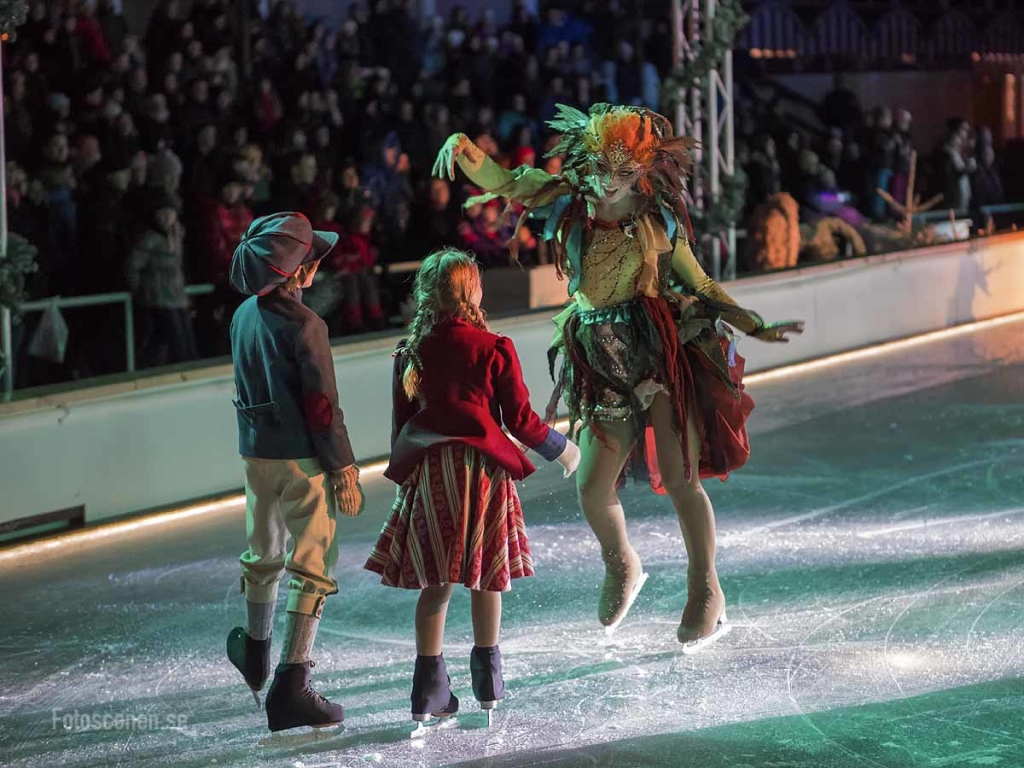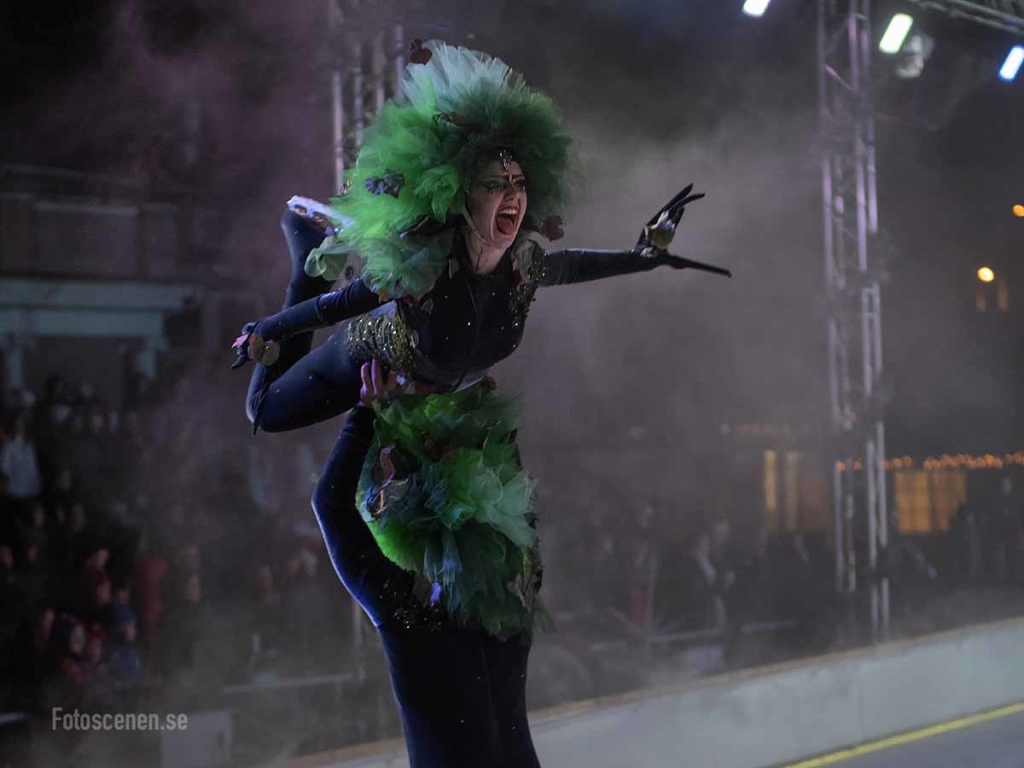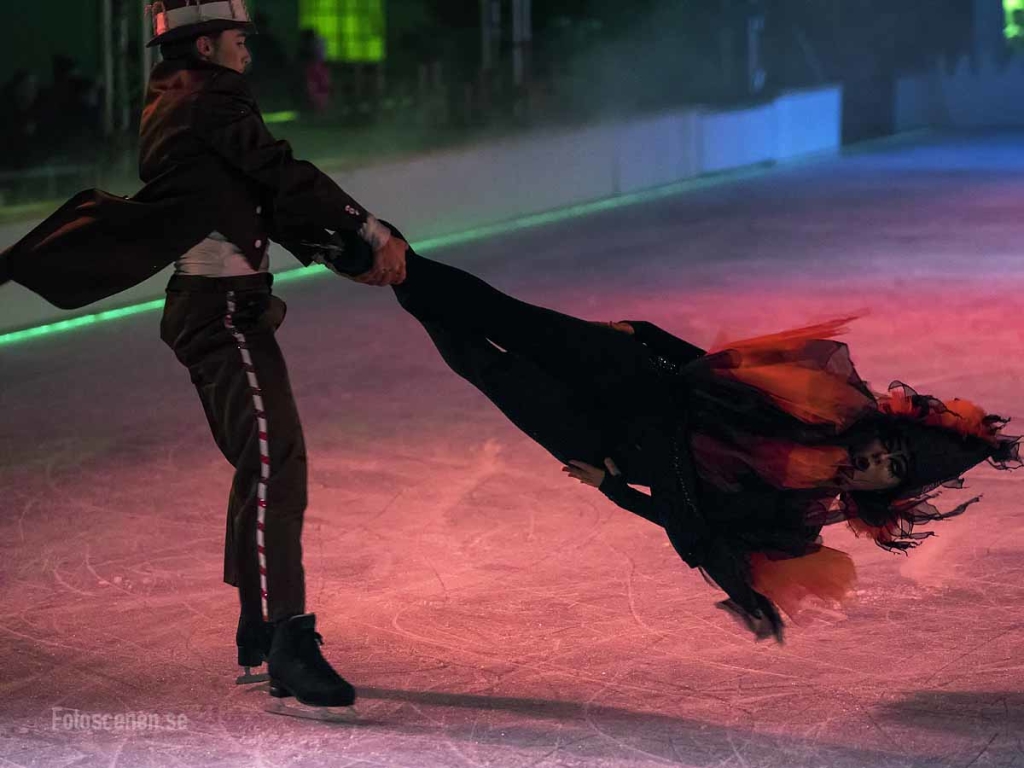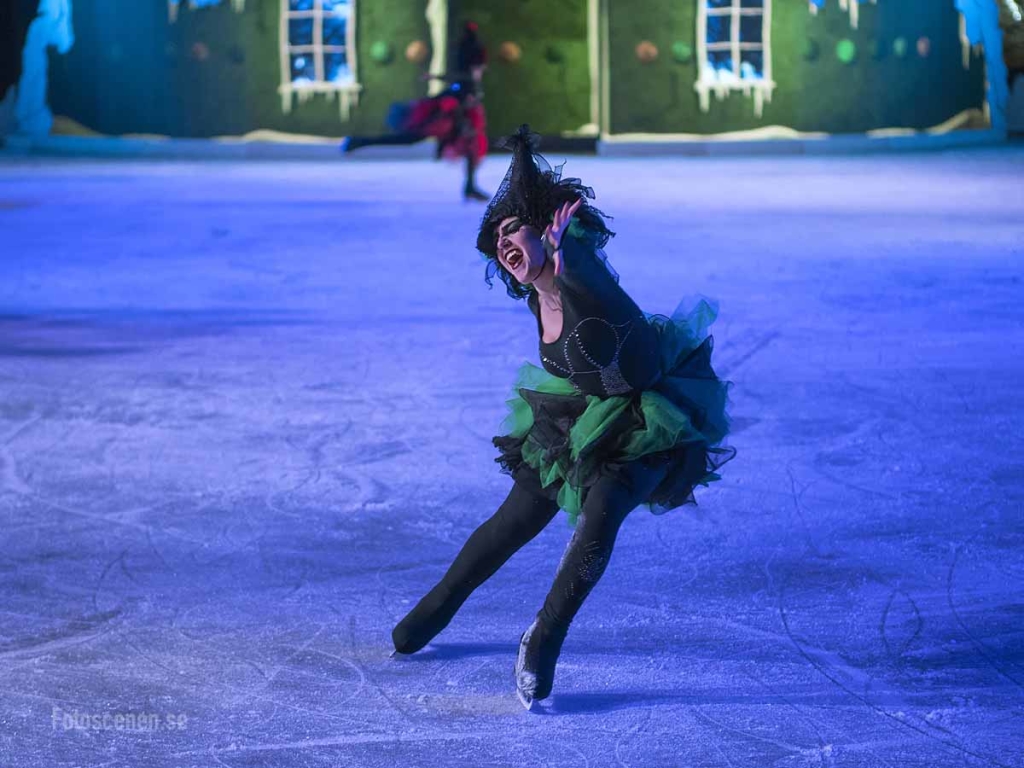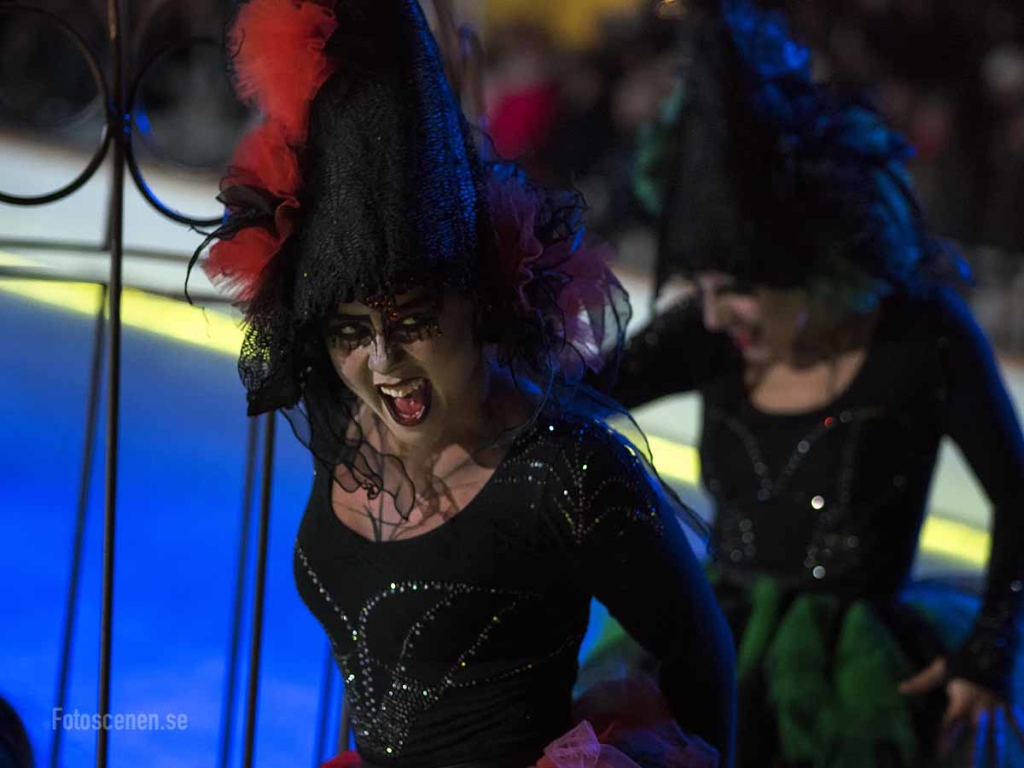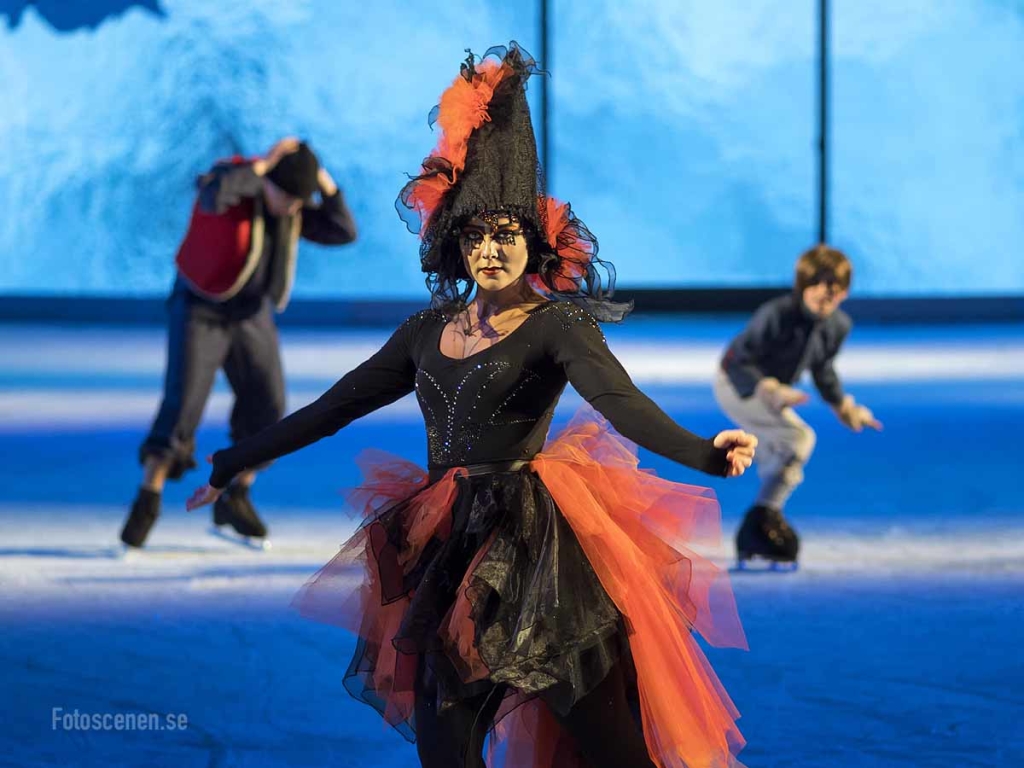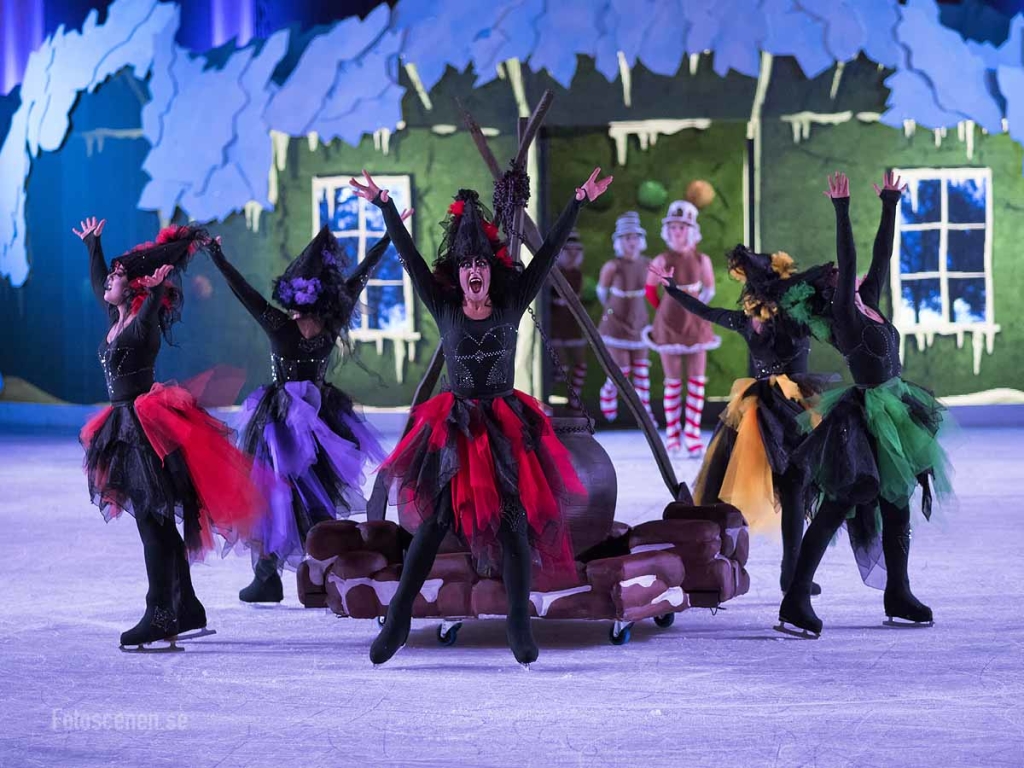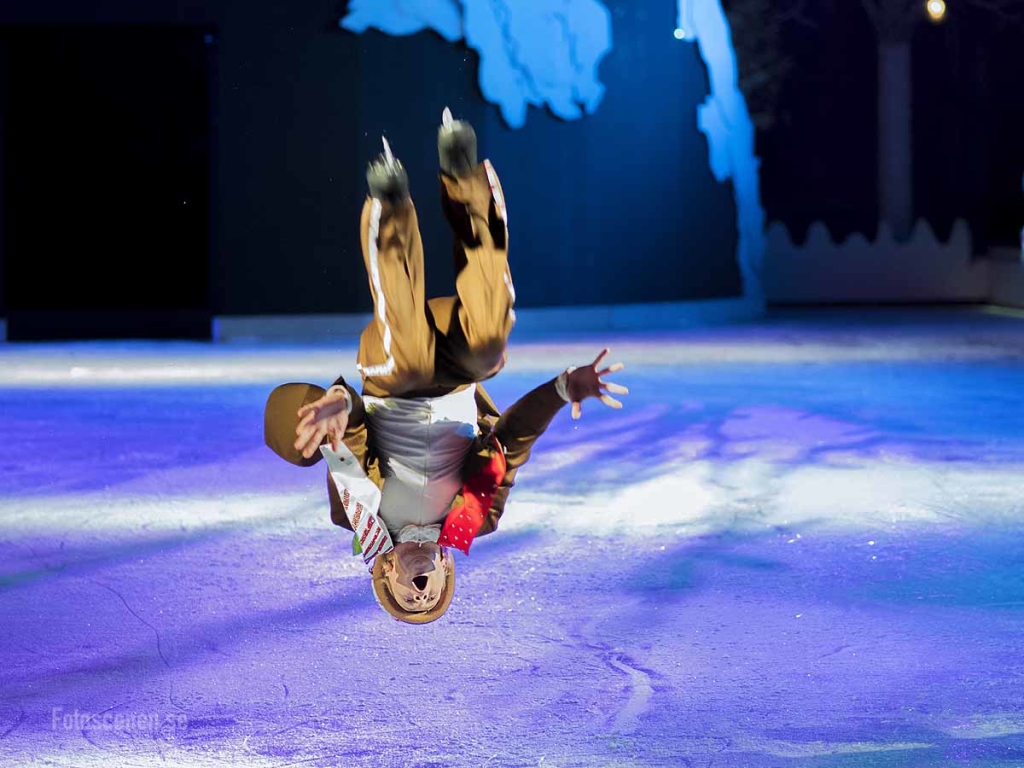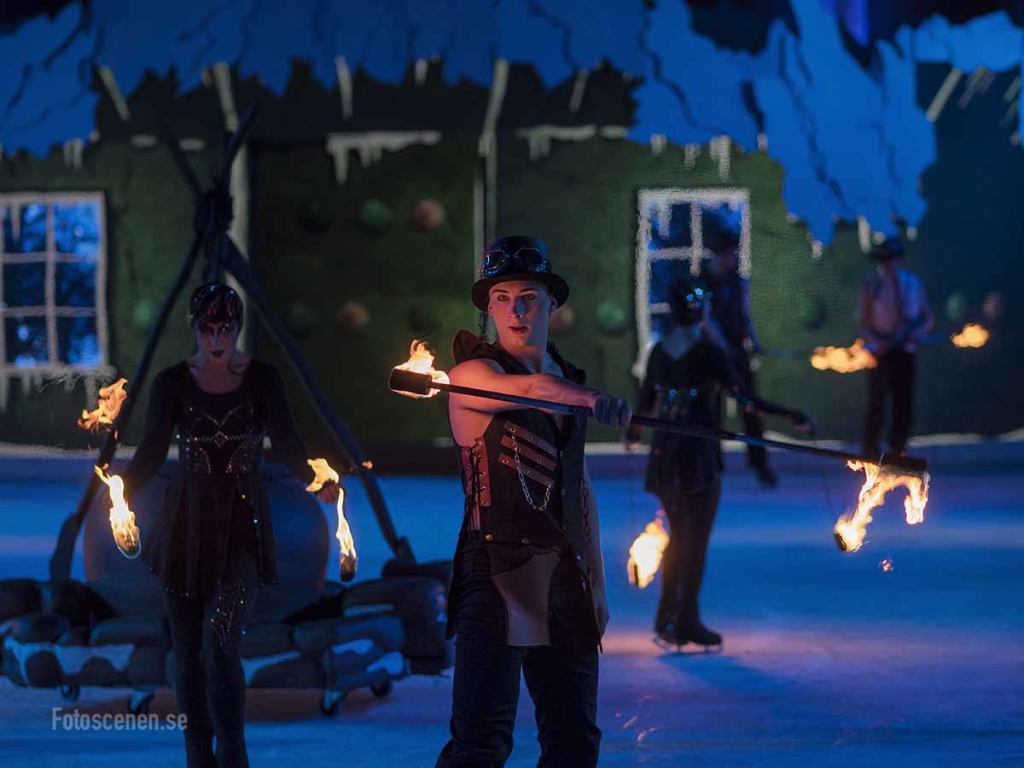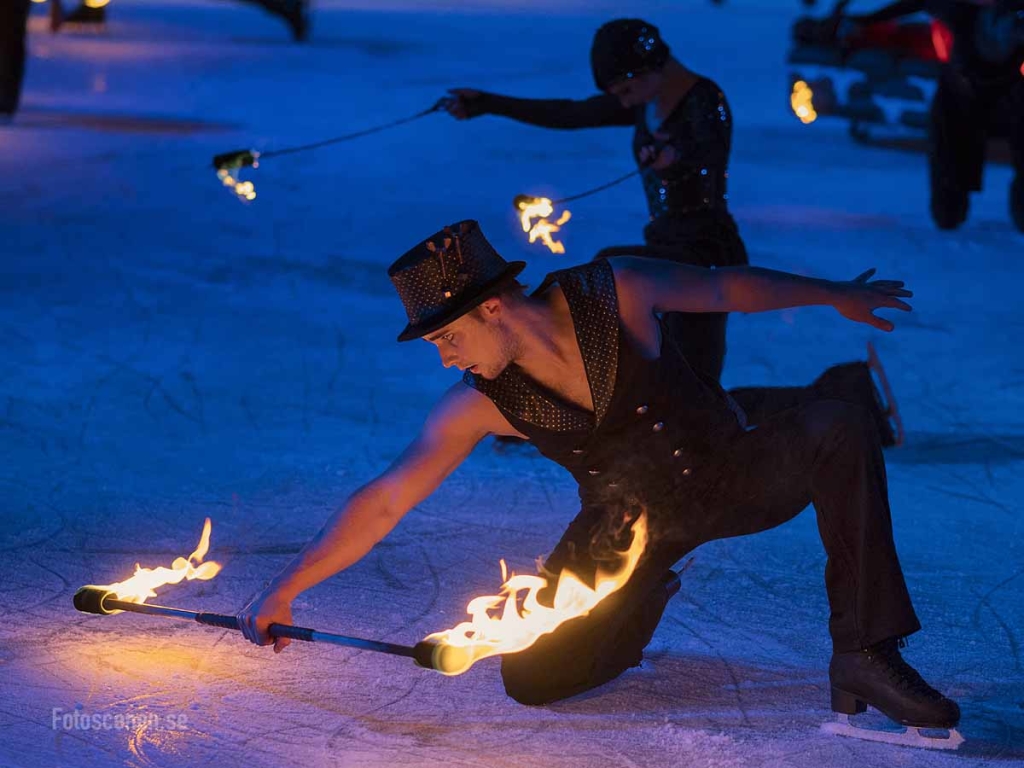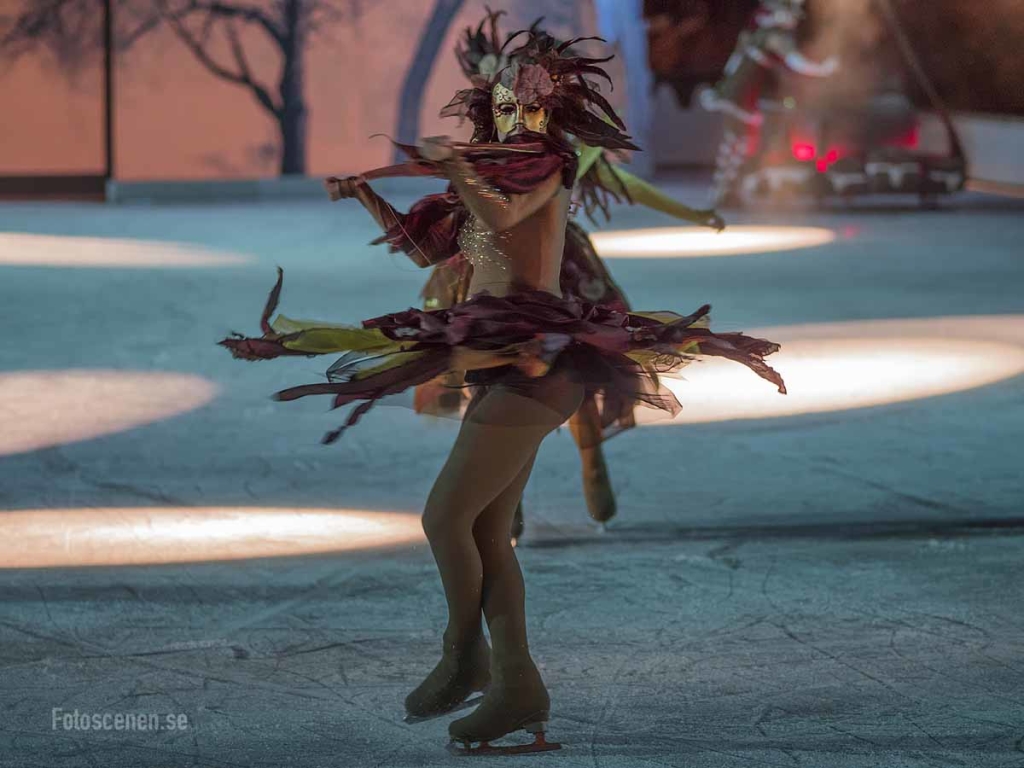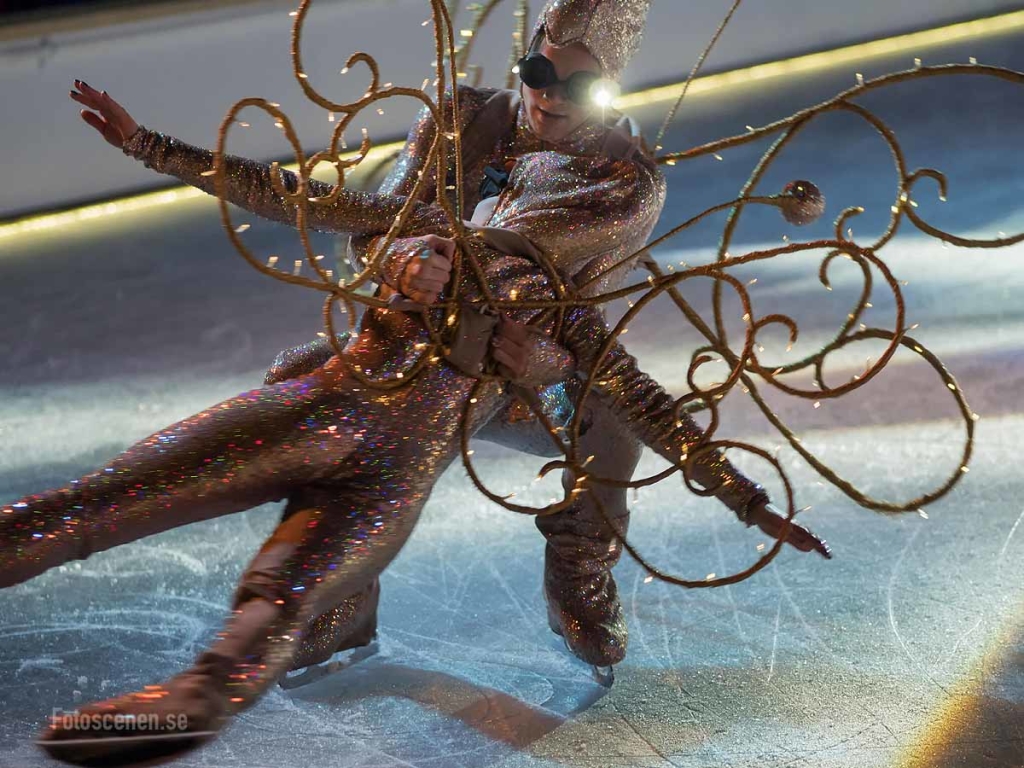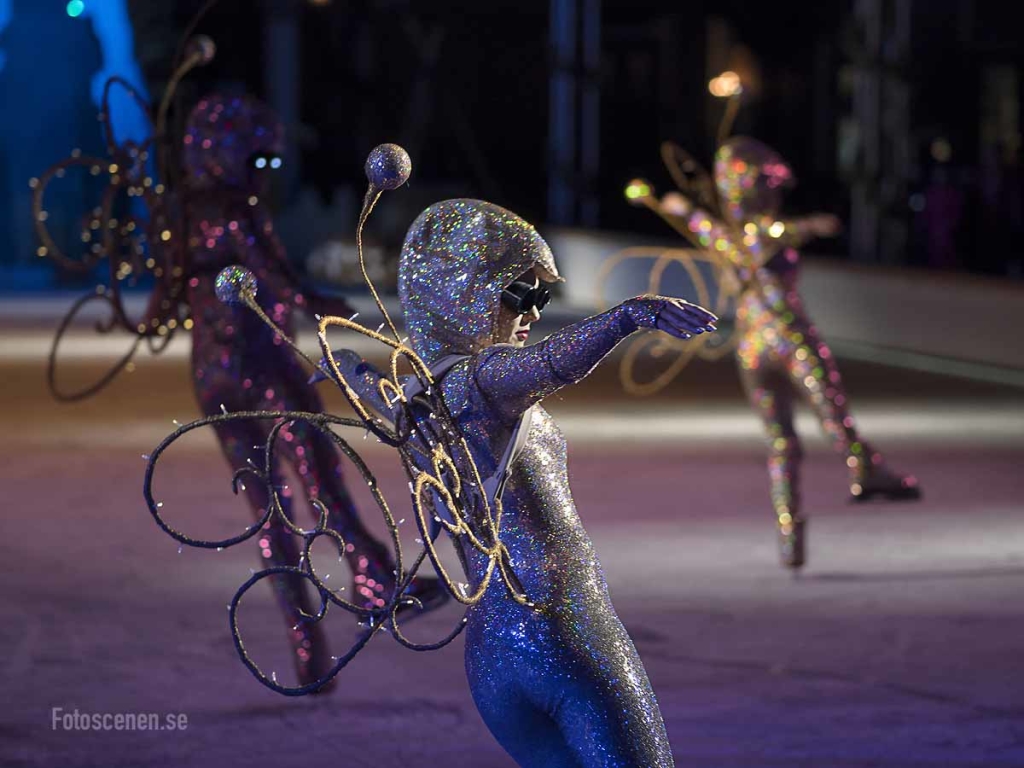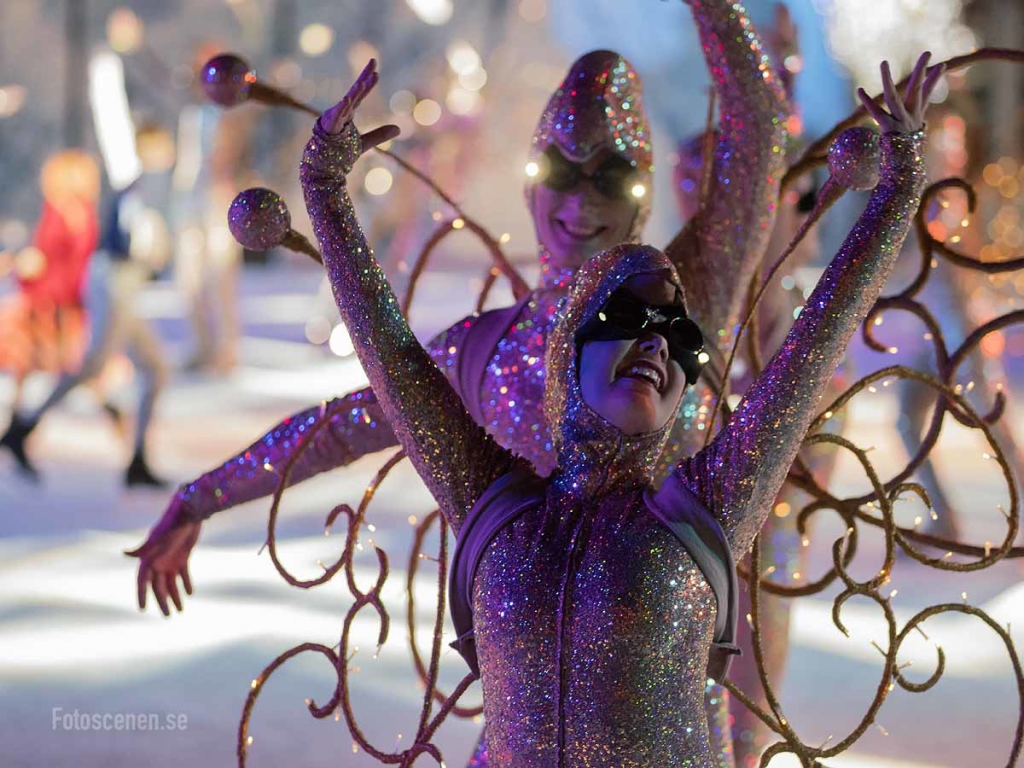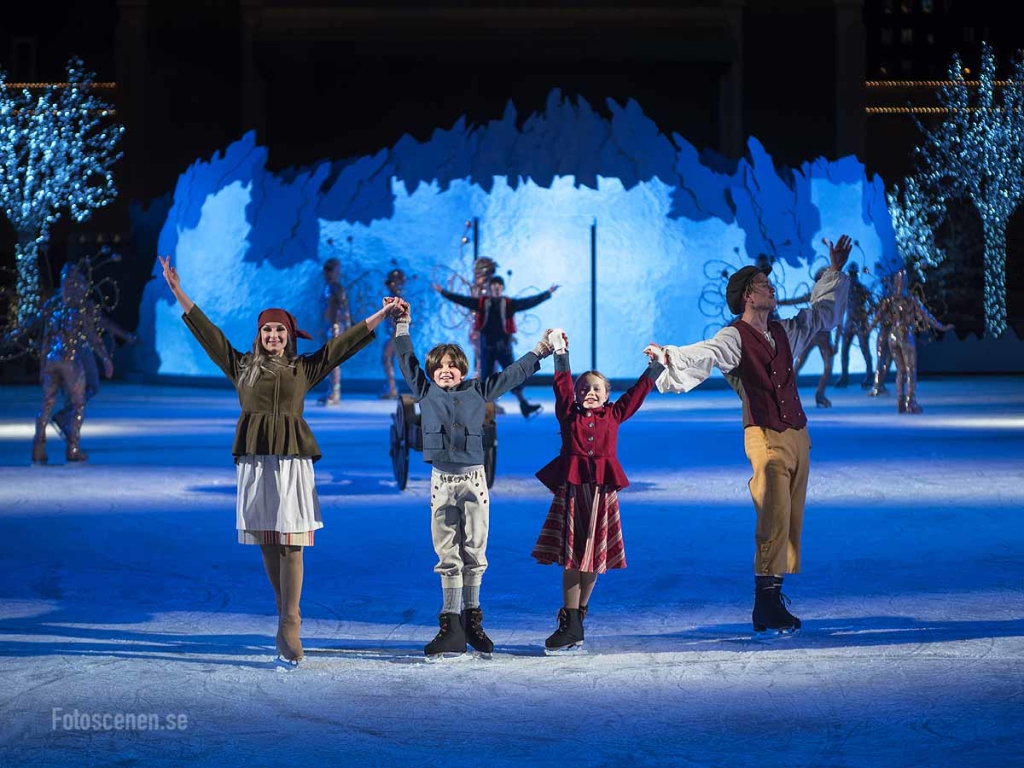 Årets isshow på Liseberg bygger på sagan om Hans och Greta. Det är en mörk historia med många spännande inslag, dock inte fullt lika läskig som förra årets show Snödrottningen. För fotonörden finns det mycket att glädjas åt, inte minst utmaningen i att plåta action i mörker, men också simultanhopp, eldshow och fyrverkerier.
För att frysa så här snabba händelser behöver man egentligen ännu kortare slutartider än 1/320 sek, men man får kompromissa och tycka att lite rörelseoskärpa bara är snyggt. Det är också bra om man tycker om brus, för ISO måste upp i topp. Jag kör med 3200 som max men använder auto för att snabbt minska om ljuset tillåter. Ljusstarka linser är också en fördel. Här är det Olympus 75mm f1.8, Panasonic 42,5mm f1.2 och Panasonic 15mm f1.7. Pga av cropfaktorn gångras millimetrarna gånger två och även skärpedjupet, vilket bara är en fördel när det går så här snabbt. Ljusstyrkan är dock samma som fullformatarna, den gångras inte med två oavsett vad en del skriver på nätet.
Normalt använder jag singelpoint för att sätta skärpan. När det går undan på en konsert använder jag kamerans skärm för att sätta fokuspunkt och även ta bilden. Men det här går alldeles för snabbt för att man ska hinna med det. Här använder jag kamerans fokuspunkter som automatiskt sätter fokus på närmaste föremål. Kameran jobbar i stort sett själv alltså, jag har bara satt in slutartiden, resten är auto. Sen är det bara att skjuta på i korta serier.
Men så har vi ju eldshowen och fyrverkerierna. På mina kameror vill jag helst inte gå över 500 ISO när jag fotar eld för att inte överexponera. Blir det inte mörka bilder då, undrar kanske vän av ordning. Jo visst, men man får ta många bilder och hoppas att elden lyser upp ett ansikte på någon av dom. Även under fyrverkerierna sänkte jag ISO.
Alla bilderna kan ses här på min Facebooksida.
This year's ice show at Liseberg is based on the story of Hansel and Gretel. It's a dark story with lots of exciting parts, though not as scary as last years Snödrottningen. For the photo geek there's a lot to enjoy, not least the challenge in shooting action photos in darkness, but also a simultaneous jump, a fire show and fireworks.
To freeze fast movements like this you really need shorter exposure times than 1/320 sec, but you have to compromise and think that a little movement blur just looks good. It's also good if you like noisy pictures because ISO needs to go way up. I use autoISO with a cap on 3200. Fast lenses also help. Here I've used Olympus 75 mm f1.8, Panasonic 42,5 mm f1.2 and Panasonic 15 mm f1.7. Due to the crop factor the length of the lens is multiplied by two and also the depth of field, which really helps. An f1.2 is still an f1.2 though, no matter what some "experts" will write.
Normally I use singelpoint to achieve focus. When there is lots of action in a concert I will use the screen on the camera to both set the focus point and take the picture. The action here is too fast though. Instead I used the focus points to let the camera find whatever is closest to me. The camera really do all the work, all I did was set the exposure time, the rest is on auto. Then it's just to keep shooting in short bursts.
But then there's the fire show. On my cameras I'd rather not exceed 500 ISO when shooting fire to not over expose it. Wont the pictures get dark, you may ask. Sure, but you just have to pray that a face will be lit by the fire in one or more of the pics you get. During the fireworks I also lowered my ISO.
All the pictures can be seen here on my Facebook page.