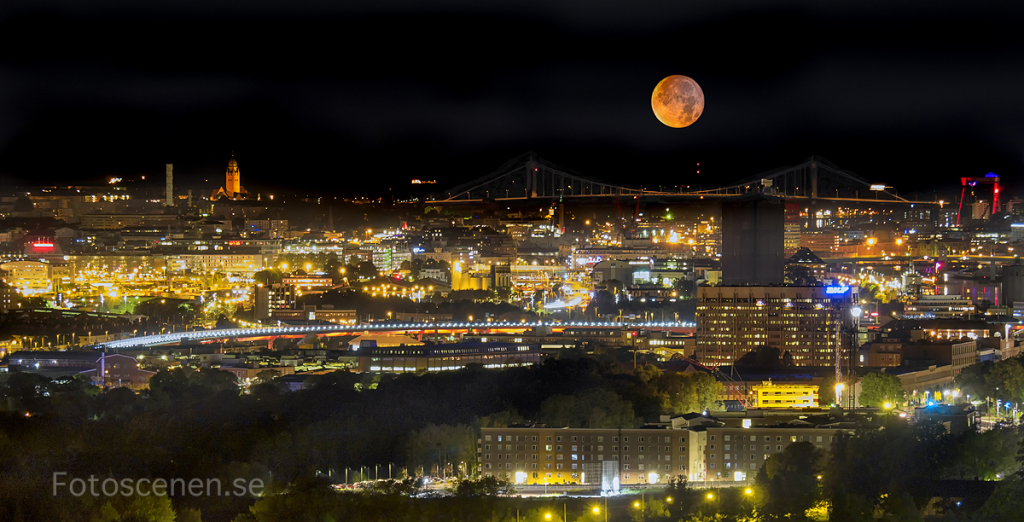 Om du pratar tillräckligt länge med valfri duktig fotograf, så kommer hen att säga att de manipulerar inte sina bilder. Om det inte behövs.
Inför superblodmånen, kände man sig nästan hetsad att ta sig ut mitt i natten och föreviga detta som jag kanske aldrig får uppleva igen. Hetsad av kvällstidningar och Facebookflödet. Visst, det var kul att ha sett det och jag vilade ikapp utan att känna att hela veckan blev förstörd, men det fanns en liten besvikelse i det också. Innan hade jag sett tillräckligt många bilder där månen satts i ett sammanhang, exempelvis två fåglar i skarp silhuett mot en lika skarp måne. Eller som min bild här ovan, där månen är enorm och hänger lågt över stadens silhuett. Den här bilden la jag upp på mitt privata Facebookkonto med bildtexten: "Var uppe hela natten igår för att vänta in rätt ögonblick att photoshoppa in månen i en annan bild."
Jag vågar påstå att samtliga spektakulära månbilder du sett tagna i Sverige är manipulerade i Photoshop. Månen kan se stor ut, oavsett om det är en supermåne eller inte, precis när den stiger över horisonten, men när väl förmörkelsen inträffade stod månen så högt att den storleksskillnaden var försumbar. I min bild här ovanför, så är månen långt utanför bilden och hade inte blivit mycket mer än en prick om den hade kommit med. Skulle jag gett mig på att fota fåglar i silhuett mot månen hade jag behövt stå nere i en dalgång så långt från fåglarna att jag inte kunnat se dom med blotta ögat.
I mitt och många andras flöde dök en väldigt snygg bild upp där den röda blodmånen kontrasterade mot en nattblå himmel. Bildtexten angav att det var en komposit, alltså två bilder, men slirade samtidigt på sanningen med att fotografen väntat in rätt tillfälle när månen var precis över bron. Vad det spelar för roll, när månen ändå skulle flyttas i höjdled och förstoras, är oklart.
Men jag vill påpeka att jag har också gjort mig skyldig till att slå ihop två bilder, inte minst min egen blodmåne, som jag beskrev med samma ord (komposit) där jag använde en vanlig fullmåne för att få bättre skärpa och detaljer. Det är ju naturligtvis så att alla fotografer redigerar sina bilder. Man kan inte lita på en bild, oavsett var den publiceras. Man har aldrig kunnat det, redan 1917 lurades världen av en bild på en flicka som lekte med älvor och för några dagar sen blev jag lurad av kvällstidningarnas spektakulära månbilder som fick mig att tro att jag skulle kunna fånga något liknande.
En journalistisk bild får inte manipuleras alls, ändå sker det hela tiden, inte minst i propagandasyfte, men också för att bli lite bättre. En av världens största tävlingar för fotojournalister, World press photo diskvalificerade 20% av bidragen pga för omfattande redigering. Och detta är då bilder som skickas in till en granskande jury. Vem granskar det som publiceras i tidningen?
En del fotografer berättar gärna att de inte ens använder Photoshop utan redigerar bilden helt i Lightroom. För vem berättar de detta kan man undra och varför? Det är inte för andra fotografer. Lightroom har med åren blivit tillräckligt kraftig för att man snabbt ska kunna bli klar med bilden där och spara tid om man har en deadline att passa. Men där finns klonverktyget om man vill plocka bort störande detaljer ur en bild, t ex. Det handlar om trovärdighet. Photoshop har en negativ klang, den som inte är insatt utgår från att en photoshoppad bild är manipulerad.
För mig som fotar så många olika motiv har jag funderat lite på min moraliska kompass i detta. För likväl som jag aldrig seriöst skulle publicerat en bild som den ovan, så redigerar jag vissa bilder kraftigt. Mina porträtt t ex. Även när jag fotar unga tjejer så ser de gärna att jag tar bort rynkor. Konsten här är så klart att vara subtil, det ska ju helst fortfarande se ut som en människa.
Jag tog en bild på Charlotte Perrelli och hennes man i somras som fick stor spridning. Den är väldigt redigerad, men precis som med all redigering försöker jag vara så subtil som möjligt och jag tyckte tänderna blev väl vita, så jag suddade och suddade och försökte tona ner det. Det visade sig vara blixten som slog i deras skalfasader. Alla som kommenterade redigeringen (och det var många) nämnde tänderna; det enda som inte var redigerat alls i den bilden!
Men det är skillnad på porträtt och porträtt. När jag gick runt på bokmässan och fotade folk på håll, tänkte jag mer som en fotojournalist och redigerade inte alls på samma sätt, utan höll mig till kontrast, ljus, färg och skärpa.
Gatufoto närmar sig fotojournalism, men ofta är bilderna svartvita och när man konverterar till svartvitt kan man ta sig väldigt stora friheter med färgkanalerna, men naturligtvis måste bilden visa ett äkta skeende.
Naturbilder skulle bli väldigt tråkiga om man aldrig fick trycka på lite med färgerna på himlen men med tiden har mina bilder kommit att mer och mer försöka skildra hur det faktiskt (nästan) såg ut. Jag har inga problem med att klona bort ett gråstrå som stör om jag missat att flytta på det. Ett vindkraftverk däremot får vara kvar, eller hellre att man hittar en vinkel där det inte syns innan man tar kortet.
När jag började fota konserter blev nästan alla bilder dåliga och jag har räddat en del misslyckade bilder med kreativ redigering. Numera har jag betydligt mer att välja på och det är sällan jag har tid eller lust att ägna mig åt det. Men det händer, exempelvis en bild på Magnus Uggla från i somras tagen långt bak i publikhavet där jag hade en lång kille som stod i vägen för hans ena fot, på en av bilderna böjde han sig ner och då lånade jag den foten till den bästa bilden. Ganska oskyldigt tycker jag. Mitt syfte är inte att lura någon med mina bilder, så jag kommer framöver att försöka berätta mer om vad jag gjort med dom.
Vart pekar då min moraliska kompass i detta? Mina bilder ljuger inte. Jag lägger inte till något som inte fanns där från början. Jag manipulerar inte. Om det inte behövs.
If you're in a discussion with a photographer long enough he/ she will state that they do not manipulate their pictures. Unless necessary.
With the recent superbloodmoon I felt forced to go out in the middle of the night to capture this event that I may not live to see again. Forced by the press and relentless Facebook updates. Sure, it was fun to see and I rested enough to not feel like I had ruined the whole week, but I was slightly disappointed. I had seen enough pictures with a striking blood moon next to buildings or with two birds in sharp silhouette against a sharp moon. I posted the picture above on my private Facebook account with the caption: "Stayed up all night to wait for just the right moment to Photoshop the blood moon into another picture".
I'm not afraid to state that every single spectacular photo of the blood moon taken here in Sweden is fake. The moon may look big, supermoon or not as it rises over the horizon, but when the eclipse happened the moon was so high that the difference was negligible. In my image above the moon was really far above the skyline and would only have been a small dot had it made it into the picture. Should I have tried to shoot birds against the moon I would have needed to be deep in a valley so far away I couldn't have seen the birds without binoculars.
One image got viral where the red moon contrasted nicely to the blue of the night sky . The caption clearly stated that it was a composite, i. e. two images put together, but then it got slippery as he wrote that he waited for the perfect timing as the moon was right above the bridge. Why that matters, as he clearly lowered and enlarged it, remains unclear.
Still, I have done that too. My own shot of the blood moon was also a composite, and I described it as such. I used a photo of a regular full moon to enhance the details. The truth is all photographers edit their pictures. You can't trust an image, wherever it is published. You never could, as early as 1917 the world was fooled by the Cottingley Fairies and just a few days ago I was fooled by the moon pictures in the press, thinking I could capture something similar.
In photo journalism you can't edit an image at all, yet it happens all the time. Not least for propaganda, but also just to improve  the picture. One of the worlds biggest competitions for photographers, World press photo had to disqualify 20% of the entries due to too much editing. And those are the pictures being sent to a critical jury, who reviews the photos sent to the papers?
Some photographers will state that they do not use Photoshop, their editing is done in Lightroom. To whom are they telling this and why? Other photographers won't care much. Lightroom has evolved enough that you can do all your editing there without need for other programmes. Useful if you are on a deadline, but you can still manipulate the image. It's about trust. Photoshop has a bad name, and anyone not involved thinks photoshopped equals manipulated.
For me, who can't settle down on a singular subject, it's not that easy to set a moral compass on this. Just as I never would have seriously published the image above, I do sometimes edit my pictures a lot. Like my portraits. Even when I'm shooting young girls, they specifically ask me to remove wrinkles. The trick here is of course to be subtle, it still has to look like a human.
This summer I took a photo of Eurovision winner (1999) Charlotte Perrelli and her husband to be, that almost went viral. It is heavily edited, but I tried to be subtle, so I thought the teeth were way too white. I kept pushing back, until I realized that it was the flash reflecting in the veneer. Everyone who commented on the editing (and a lot of them did) mentioned the teeth; the only original part of the photo!
But every portrait should not be edited. At my recent visit to the book fair when I wandered around and took portraits from a distance, my aim was to be a photo journalist and my editing was more basic, contrast, light, color and sharpness.
Street photography is similar to journalism, but often you convert them to black and white and doing that is really some serious manipulating, still the photos must show what really happened.
A sunrise would be dull indeed if you didn't push the colors of the sky, the trick is doing that without loosing detail. Over time I have become more boring in that, I guess, as I try to edit as it (almost) really was. I wouldn't hesitate to clone out a straw of grass if I didn't think to remove it at the spot. A wind turbine remains or better yet, I'll find an angle where it isn't visible.
When I started out shooting concerts most of my images was pretty poor and I have saved pictures with creative editing. Nowadays I have a lot more successful shots to choose from and I rarely have the time or energy to do some serious editing, but it happens. This summer I got a shot of Magnus Uggla from deep back in the audience. I had this tall guy in the front, but on one image he lowered his head, giving me a chance to borrow the foot he was hiding and add it to my preferred picture. Quite innocent, I think. My purpose isn't to fool people with my shots, so in the future I will be better at revealing what I have done to them.
So where is my moral compass headed in this? My images don't lie. I don't add anything that wasn't there from the start. I don't manipulate. Unless necessary.