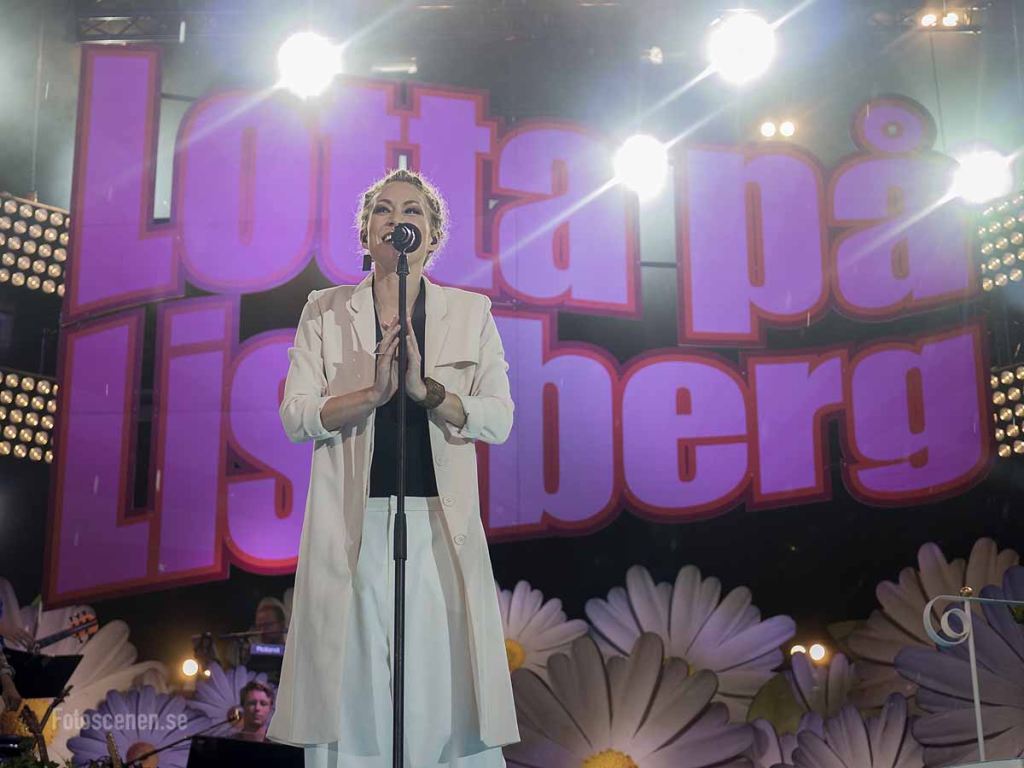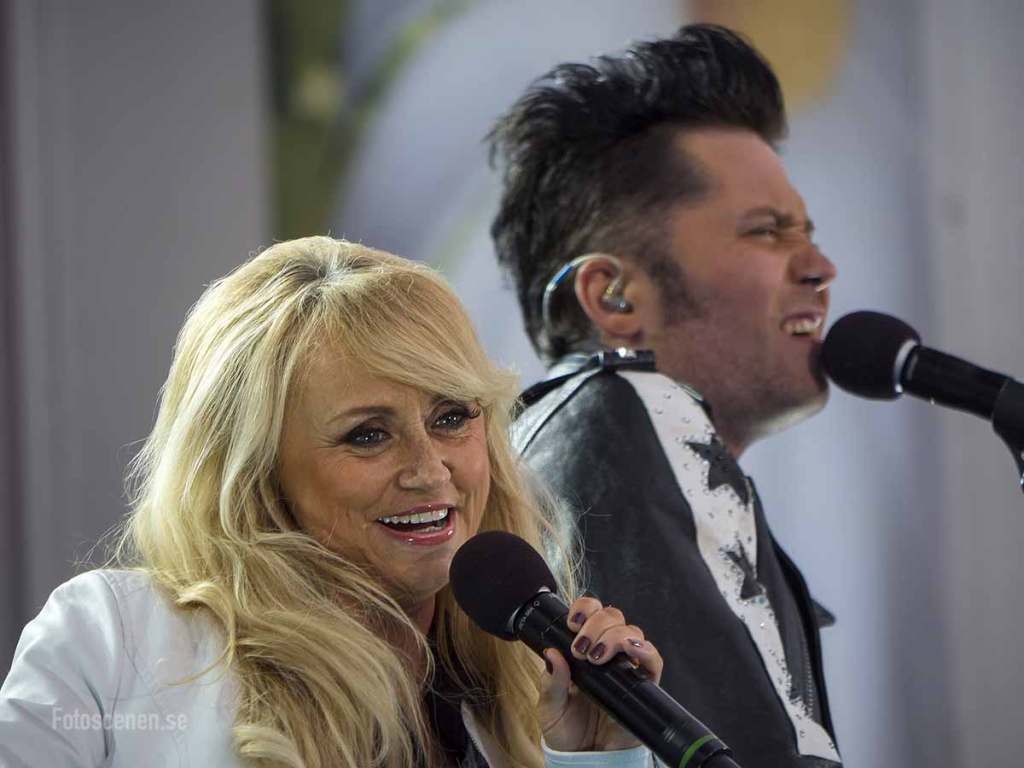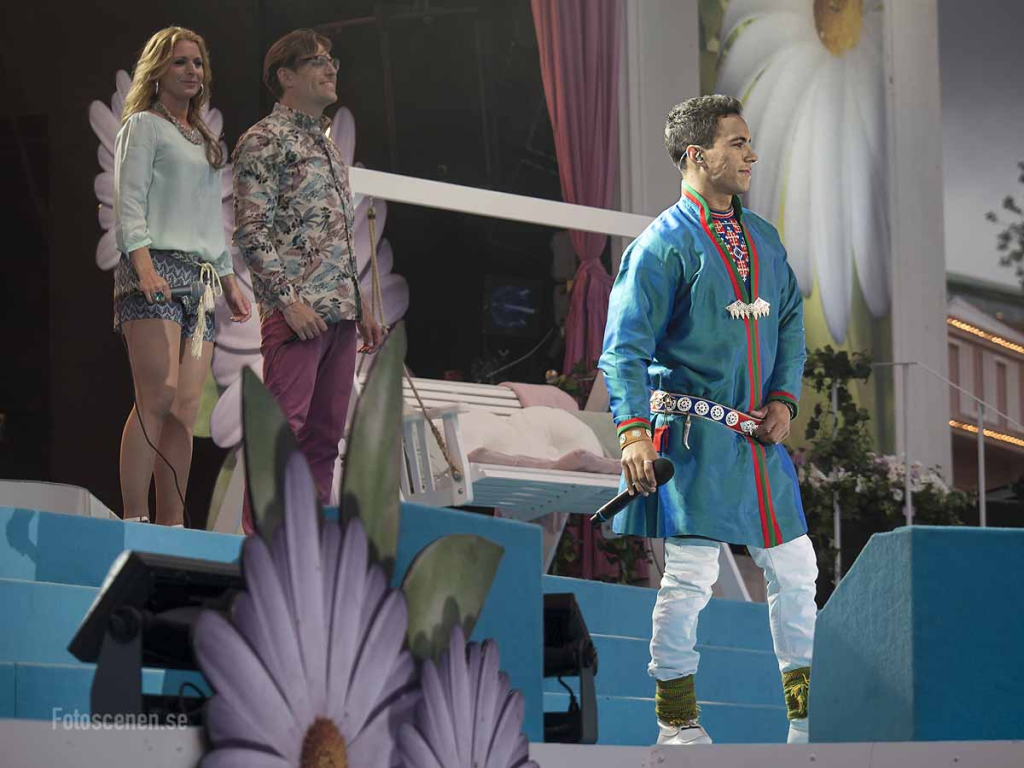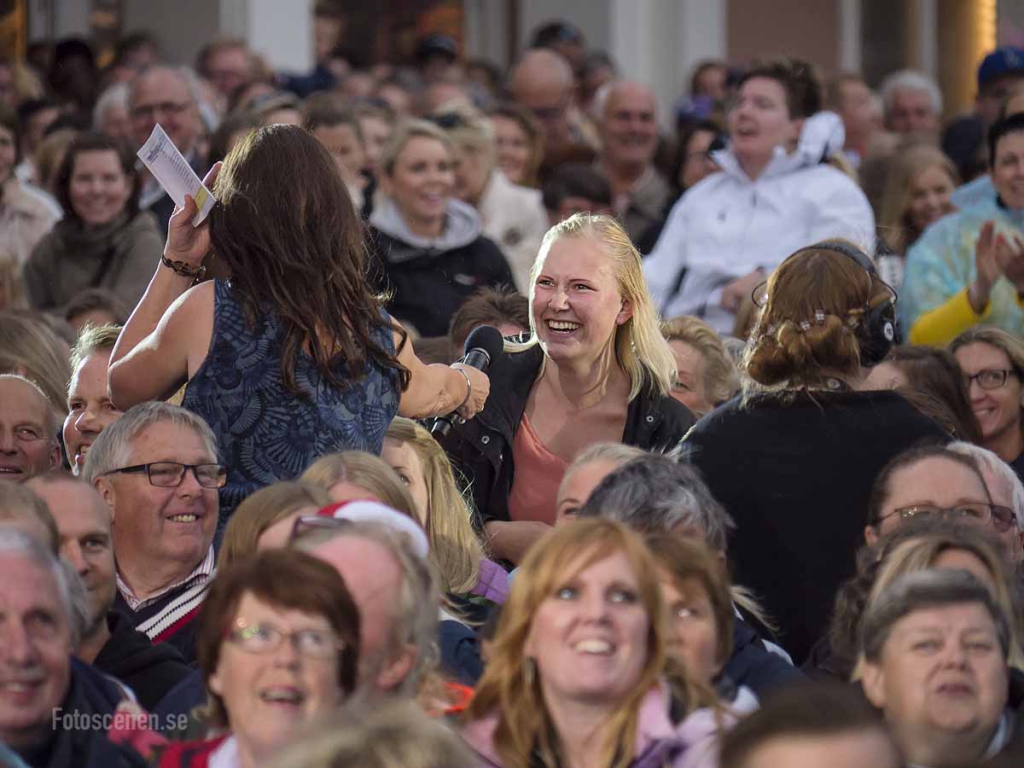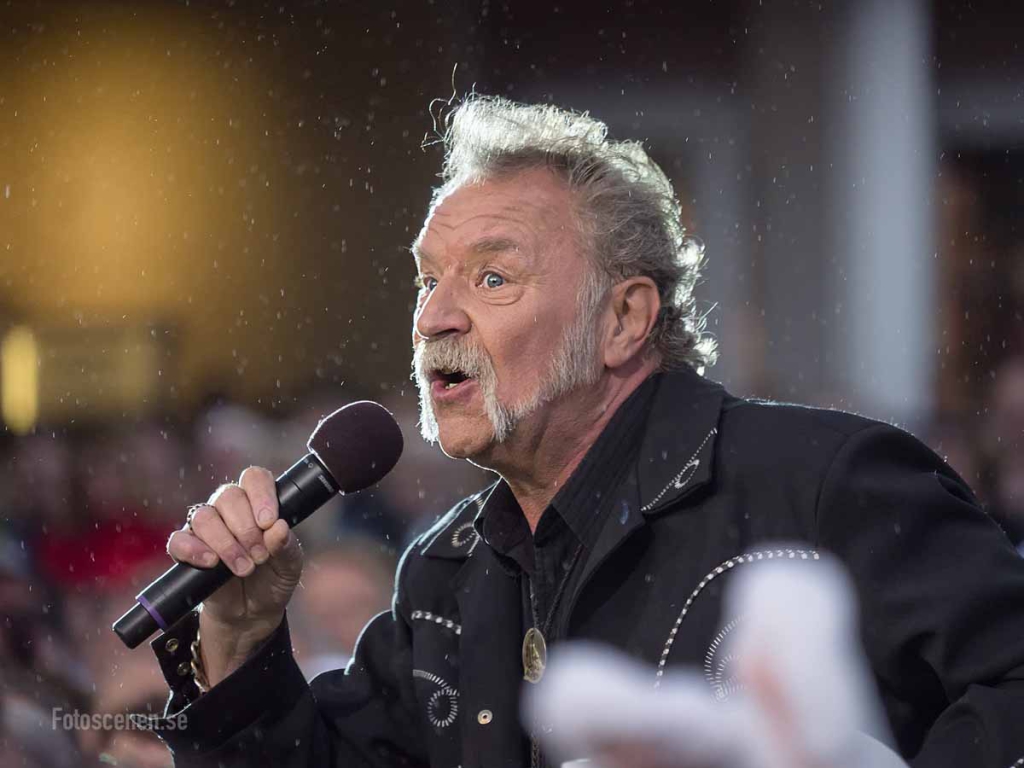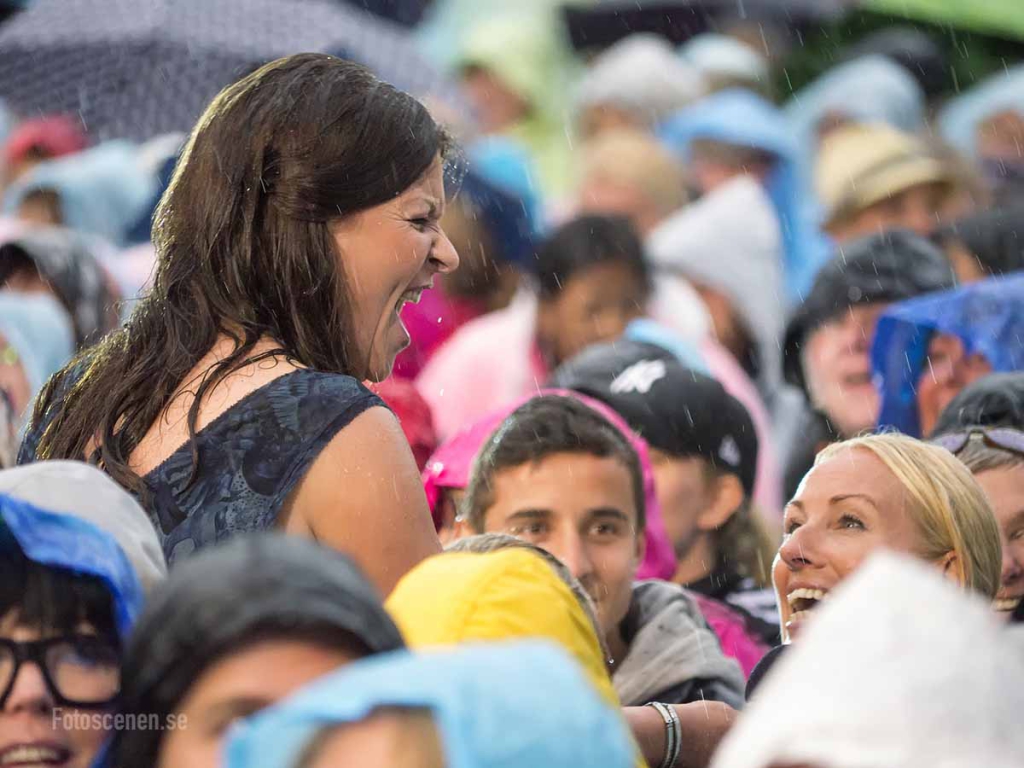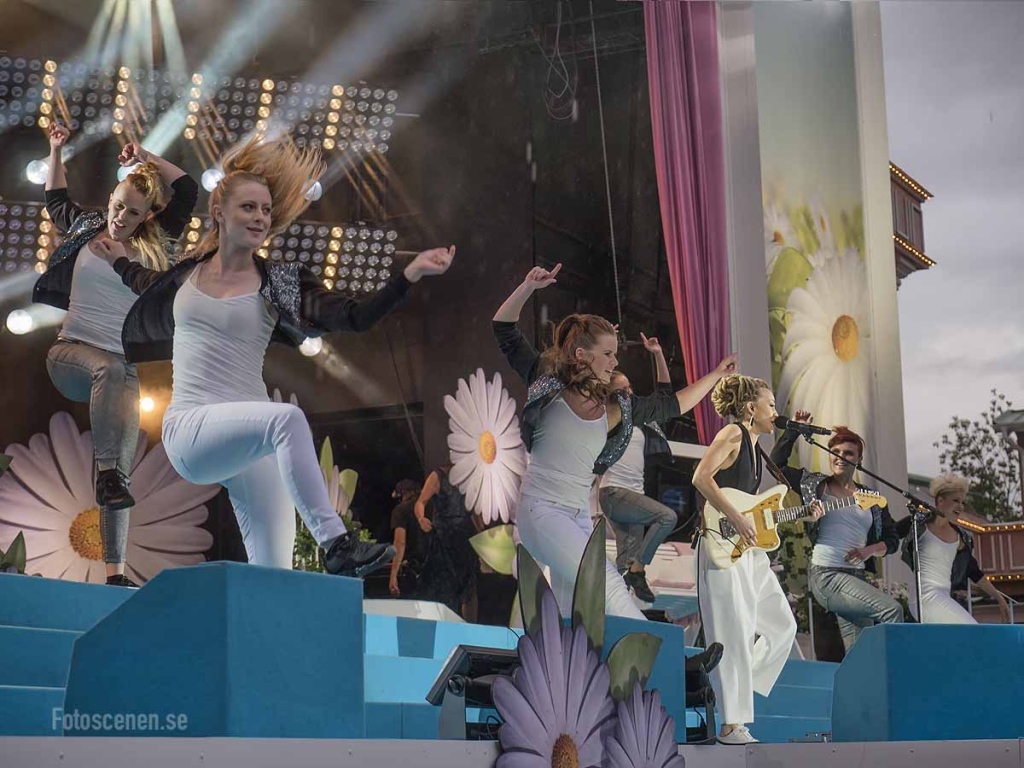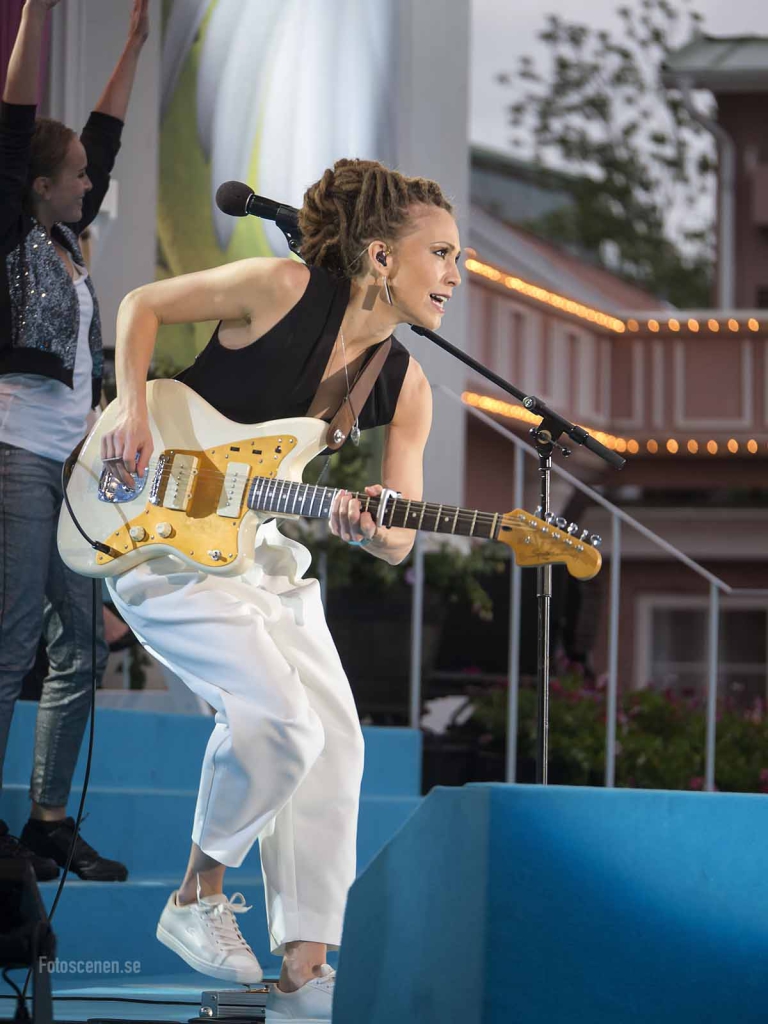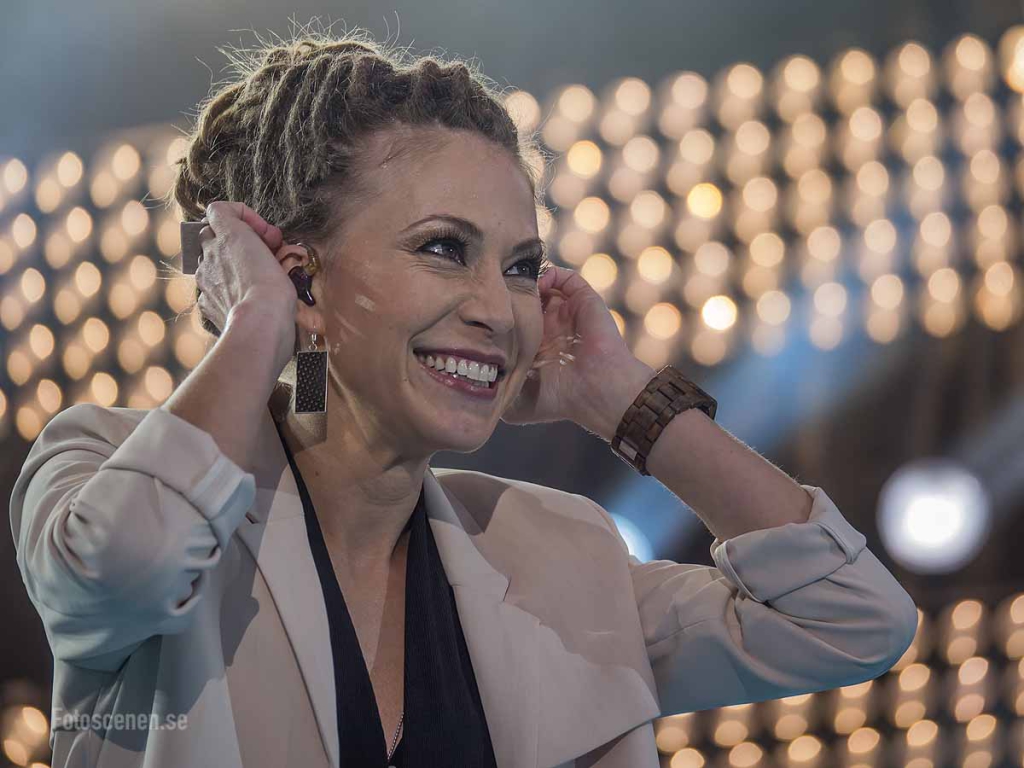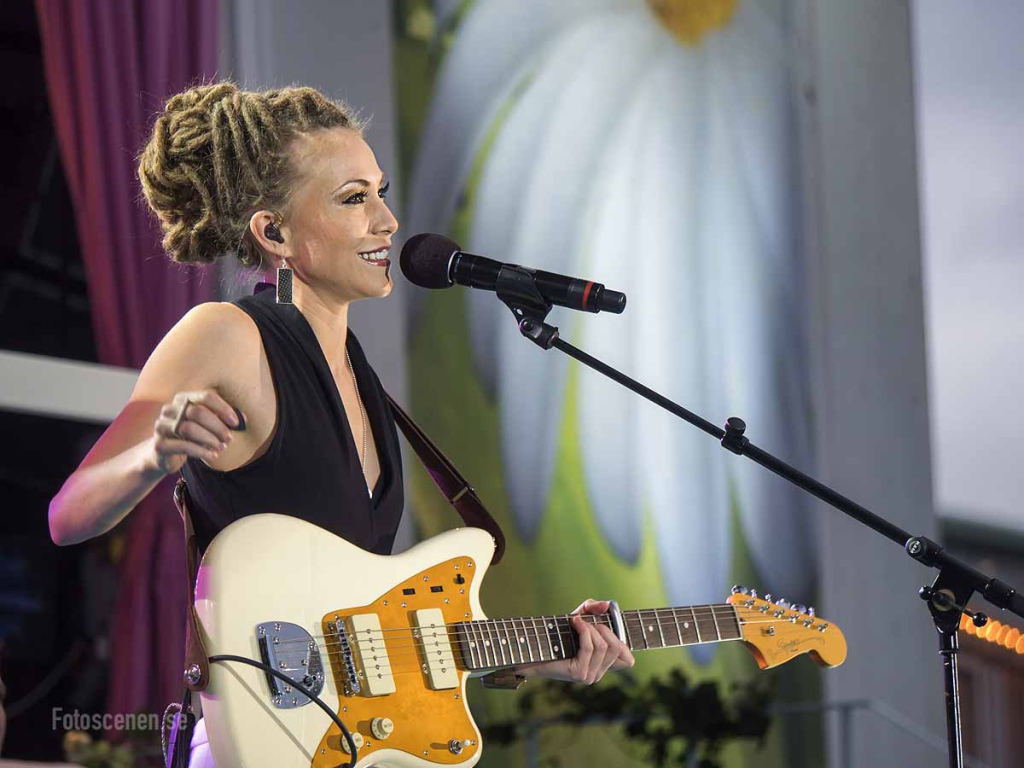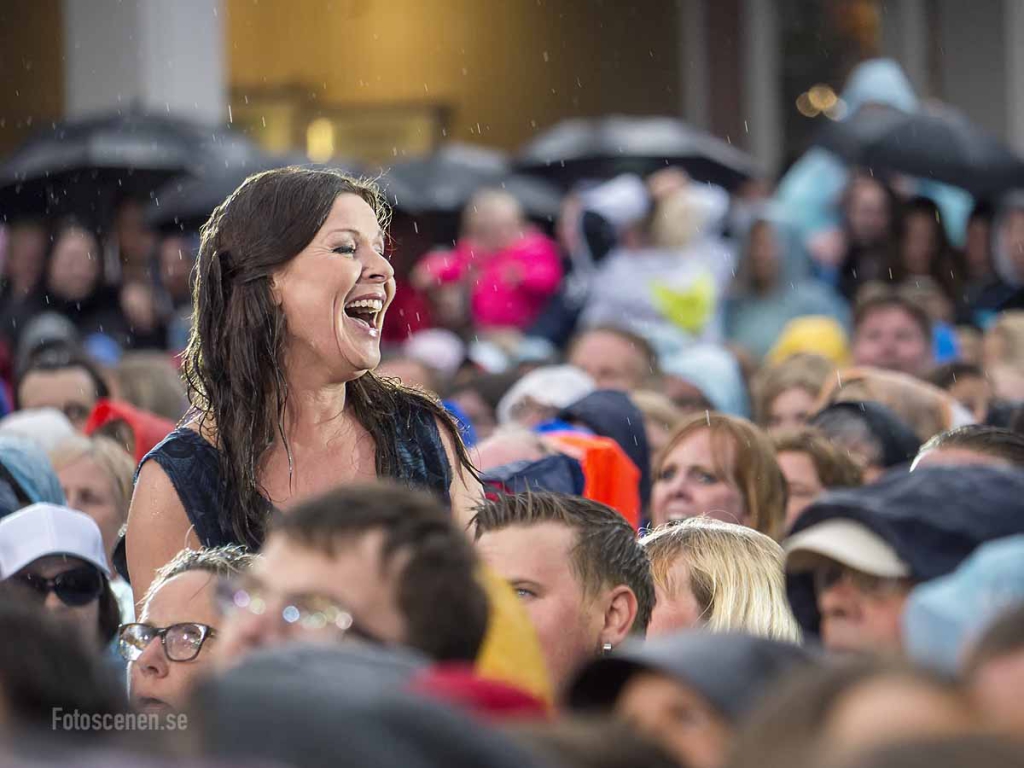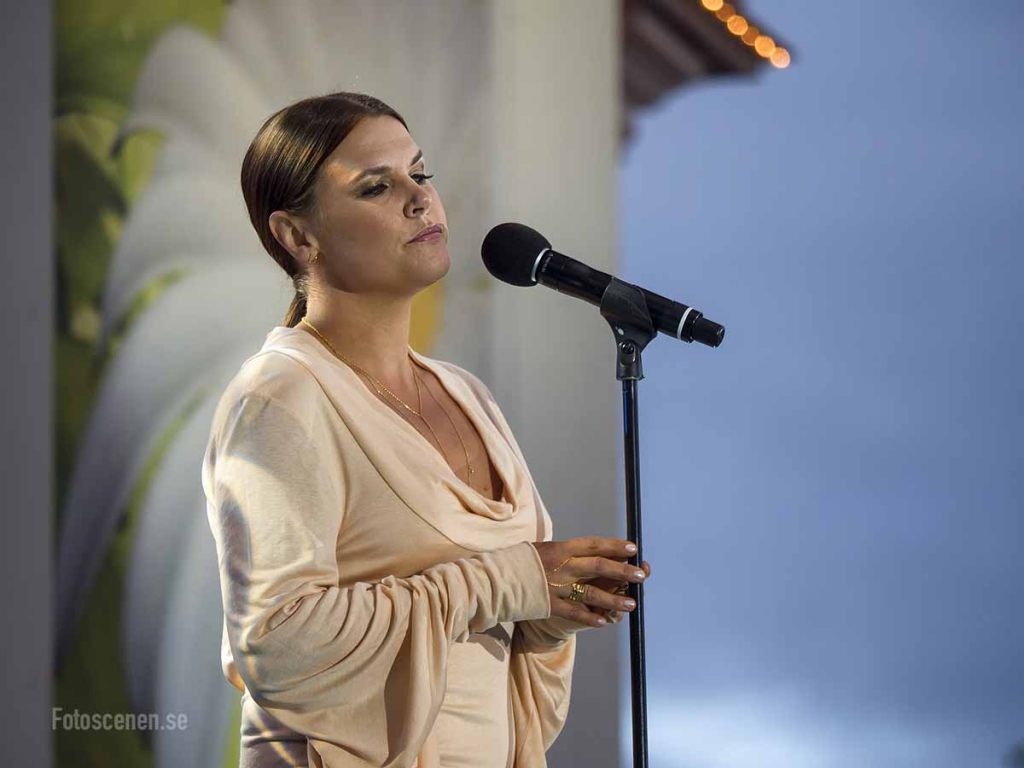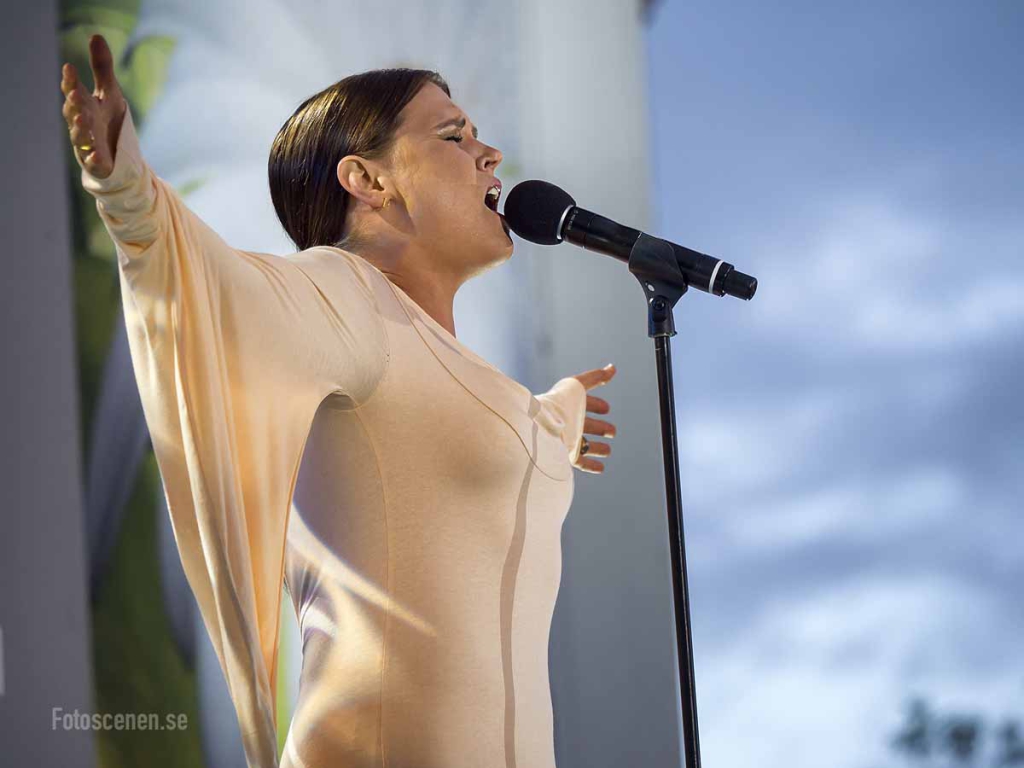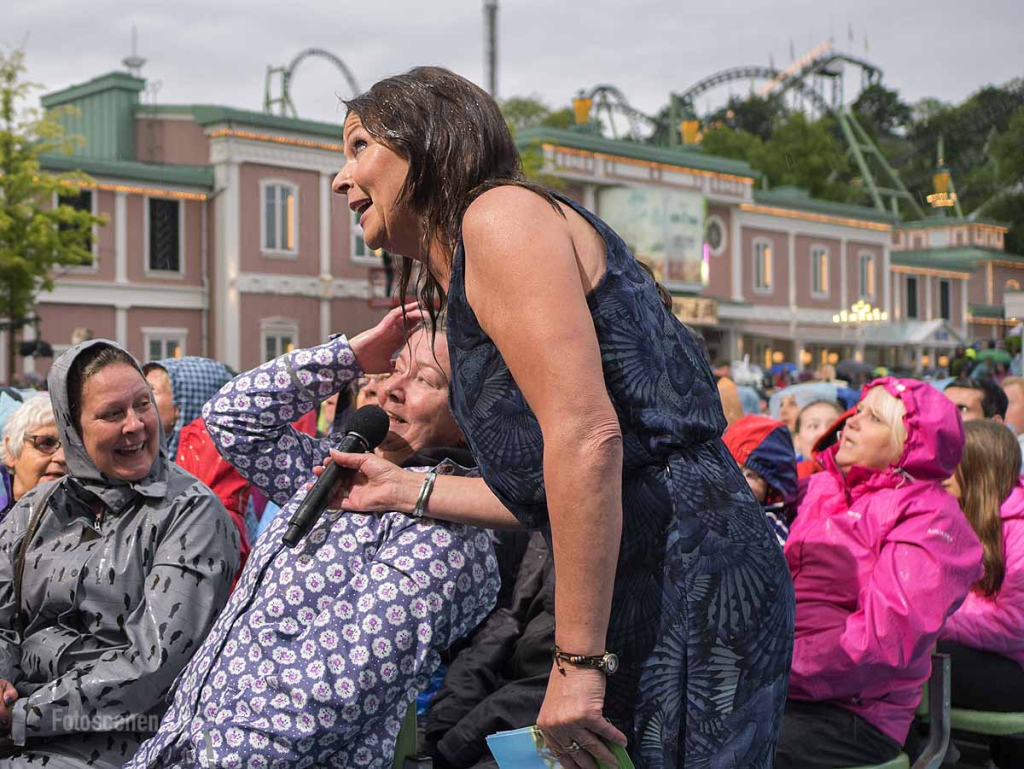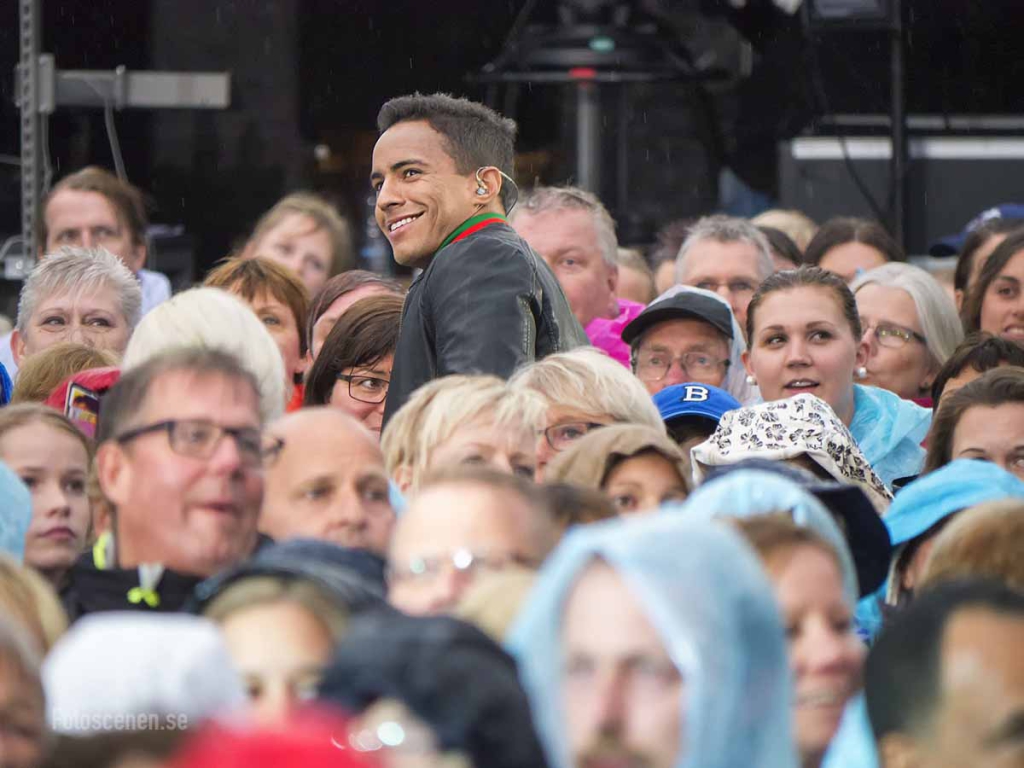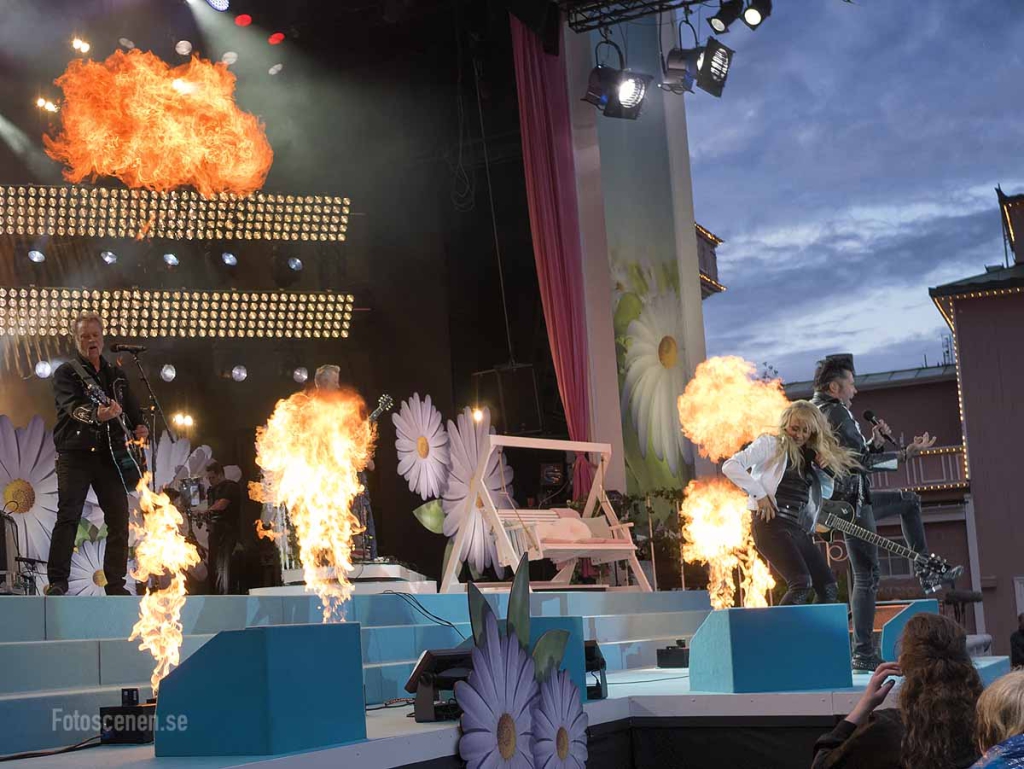 Det kanske inte är en superstark öppning på årets allsång med Lotta Engberg, men det är definitivt tillräckligt för att jag ska vakna till liv och känna glädjen med att fotografera igen. Det vita ljuset som måste till när det är tvproduktion är så underbart att få fota i. Det ganska ljussvaga supertelet får en chans att glänsa när ljuset äntligen räcker till, även om jag måste chansa lite med slutartiderna när jag fotar med full zoom. På motsvarande 600mm behöver jag egentligen ha 1/1200 s, men så mycket ljus har man aldrig så jag ligger på 1/320 s och hög ISO. När man då lyckas vara tillräckligt stadig på handen blir resultatet som idag. det är framförallt publikbilderna som är tagna med telet, men även bilderna på Mia t ex.
Regnet gör ju också sitt till för att framhäva skärpedjupet. De andra fotograferna fick stoppa undan sina dyraste grejer när det började ösa ner, men mina prylar är antingen vädertätade eller såpass billiga att det kan vara värt att chansa lite. Telet gav jag 3000:- för begagnat t ex. Får se om jag känner likadant när jag inspekterat det senare idag.
Mina bilder från förra årets Lotta på Liseberg finns här. Och artisterna jag fotat innan: Nanne Grönvall, Brolle och Mariette
It may not be the strongest opening at the sing-a-long at Liseberg, but it's definitely enough to wake me up and make me feel the joy of photography again. The white light that is necessary for a tv production is just wonderful to shoot in. The rather dim super tele gets a chance to shine when I finally have enough light at a concert, even though I have to take my chances with the shutter speed when I'm at full zoom. At 600 mm I really need 1/1200 s, but I never have that much light so I'm on 1/320 and high ISO. When I manage to keep a steady enough hand the results are like today. It's mostly the audience pictures I'm talking about bat also those of Mia.
The rain also makes a lot to enhance the depth of field. The other photographers had to put their expensive equipment away when it started to pour down, but my gear is either weather proof or cheap enough that I can take a chance. The tele was just 300€ in used condition. Let's see if I still feel like that after inspecting it later.
My pictures from the Lotta på Liseberg from last year are here. And the artists I've shot before: Nanne Grönvall, Brolle och Mariette.