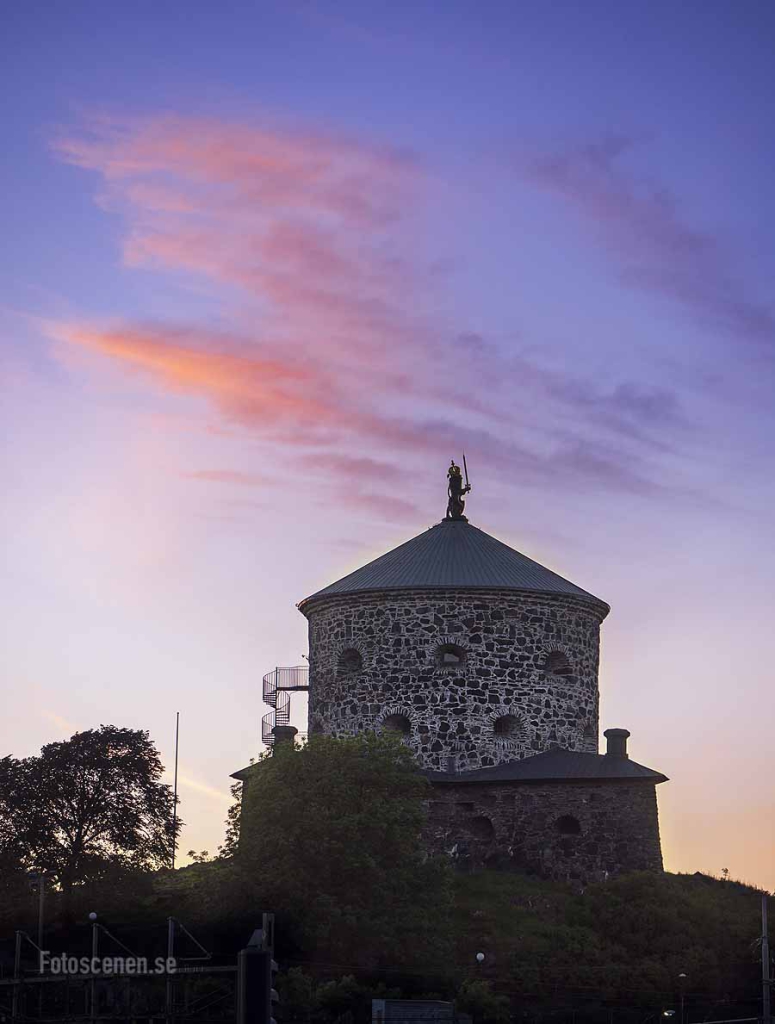 Hur tar man en sån här bild, kanske någon undrar. Termen HDR är säkert bekant, normalt sett innebär det att man tar flera exponeringar, som man sen lägger ihop i ett program, vilket lättar upp skuggiga partier i bilden. Har man aldrig sett effekten innan så kommer man per automatik att maxa alla inställningar. Bilderna blir överdrivna och onaturliga, men fräcka, visst. Och jag har gjort sådana bilder också. På den gamla bloggen kan man följa min utveckling från att jag började fota fram till för bara några månader sen, så där finns alla avarter.
Den här bilden tog jag när jag missade bussen häromdan, (ibland har man tur). Ska man ta flera exponeringar som ska sättas ihop behöver man ett stativ, men det hade jag inget med mig, så jag har använt en exponering som jag sen framkallat på tre olika sätt i Lightroom. En där himlen blev vacker, en där jag valde rätt vitbalans på själva skansen och en där skansen bara blev en silhuett. Sen har jag bara lagt bilderna på varandra i lager och suddat fram det jag vill visa upp. Ganska enkelt och i mina ögon ett mer naturligt resultat än vad HDR programmen åstadkommer.
How do you take a picture like this, someone may wonder. The term HDR probably rings a bell, normally it means taking a couple of different exposures and combining them, to lighten up shadows in the final image. If you never seen it before, you will take it to the max. The pictures will look nothing like real life, but cool, sure. I've done that too. On the old blog you can follow me right from where I got interested in photography, right up to when I've moved here couple of months ago, so all my mistakes and triumphs are preserved.
This picture I took the other day when I missed the bus, (sometimes you get lucky). If you are going to take several exposures you need a tripod, I didn't bring one, so I took one exposure and developed it in three different ways in Lightroom. One where the sky looked beautiful, one where the white balance was right on the castle and one where it was just a silhouette. The I put them on top of each other and used the eraser to bring out the desired effect. Rather easy and in my eyes more natural, than what the HDR programmes achieve.