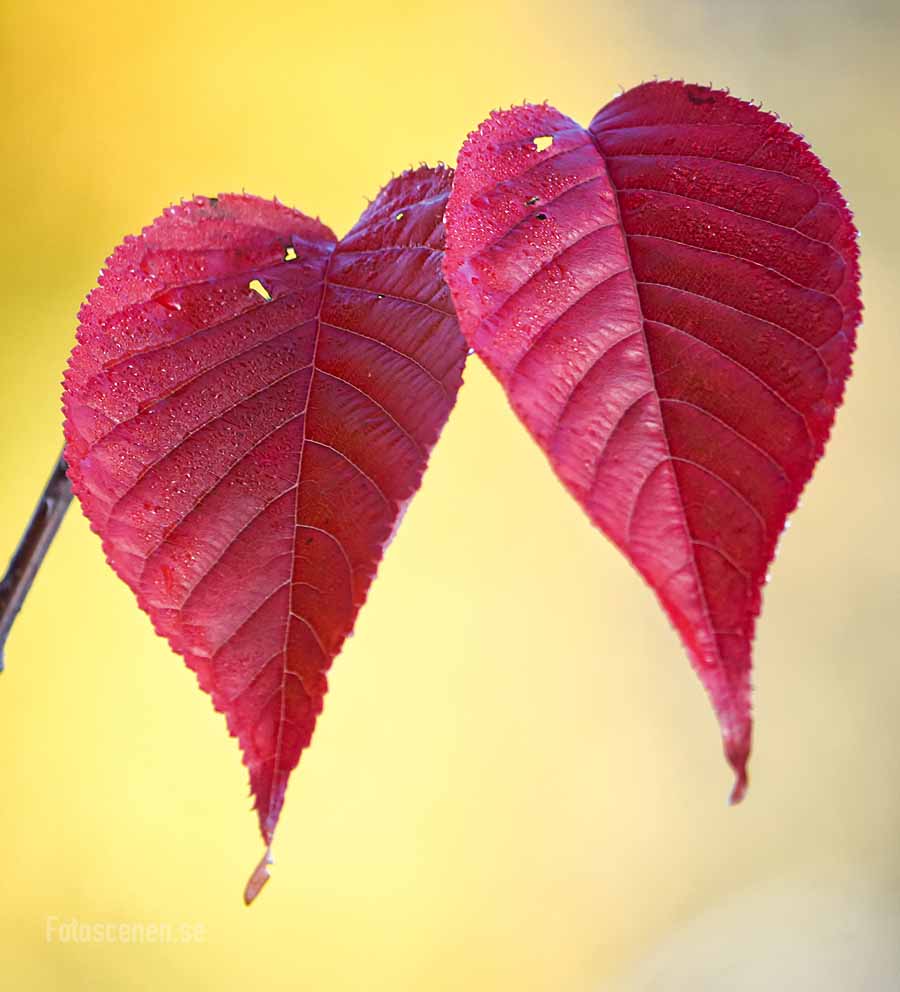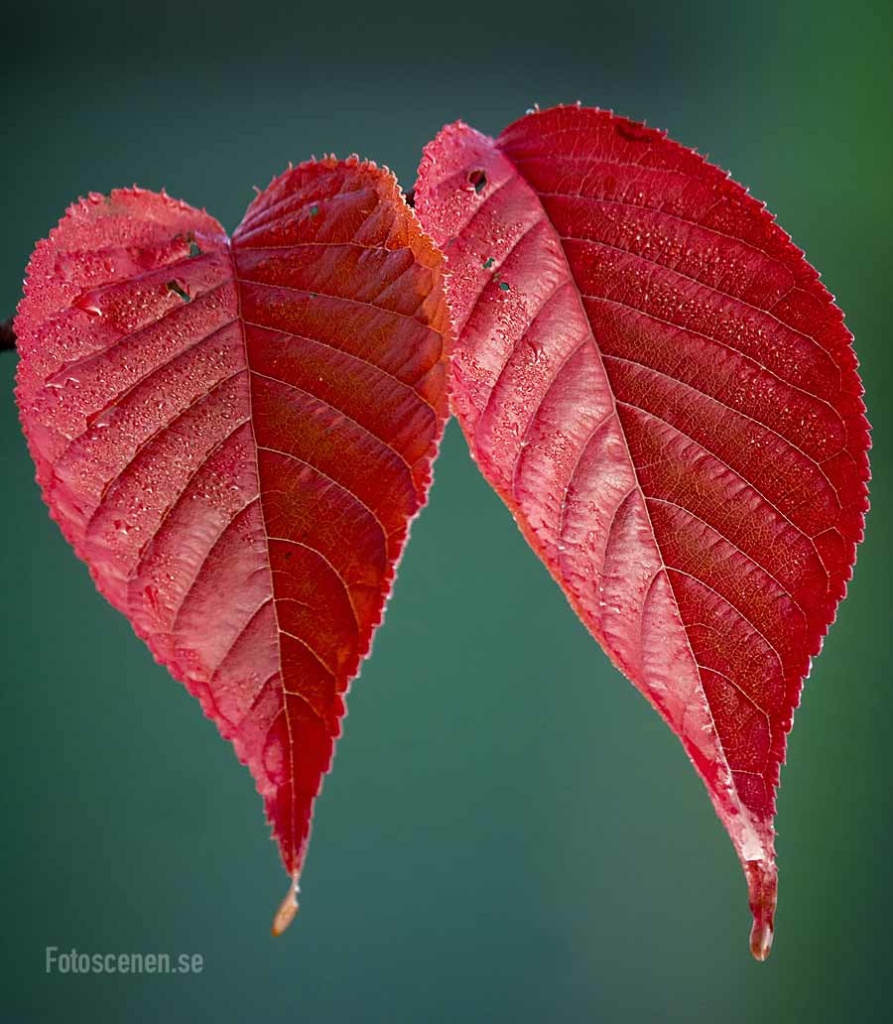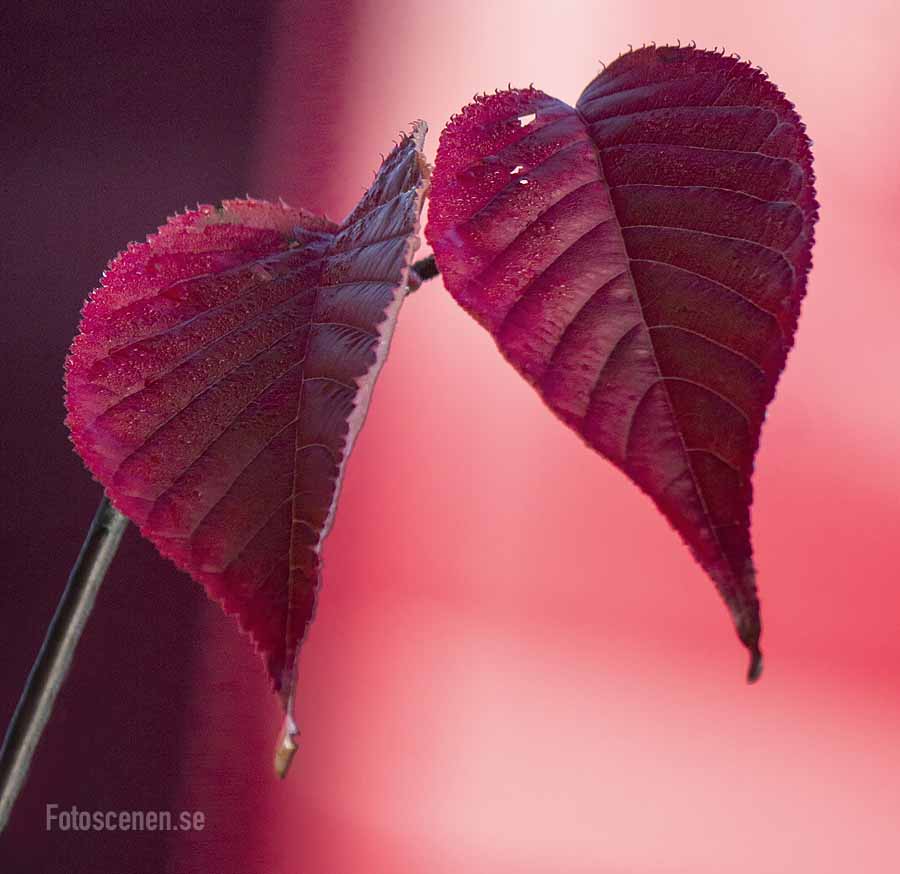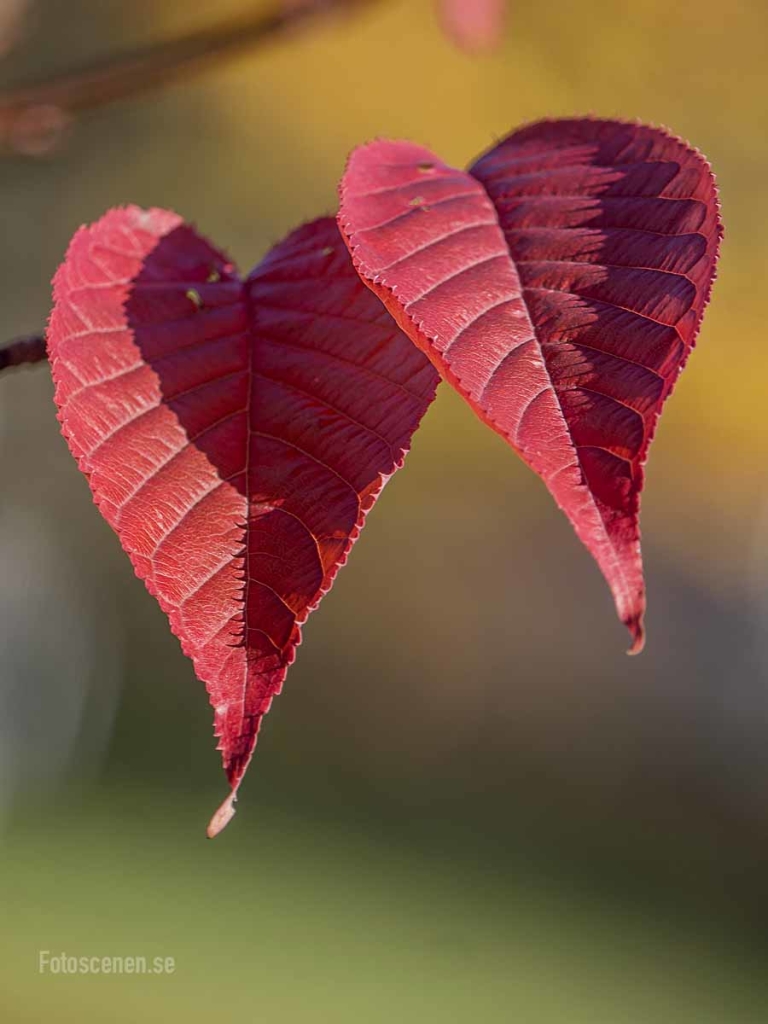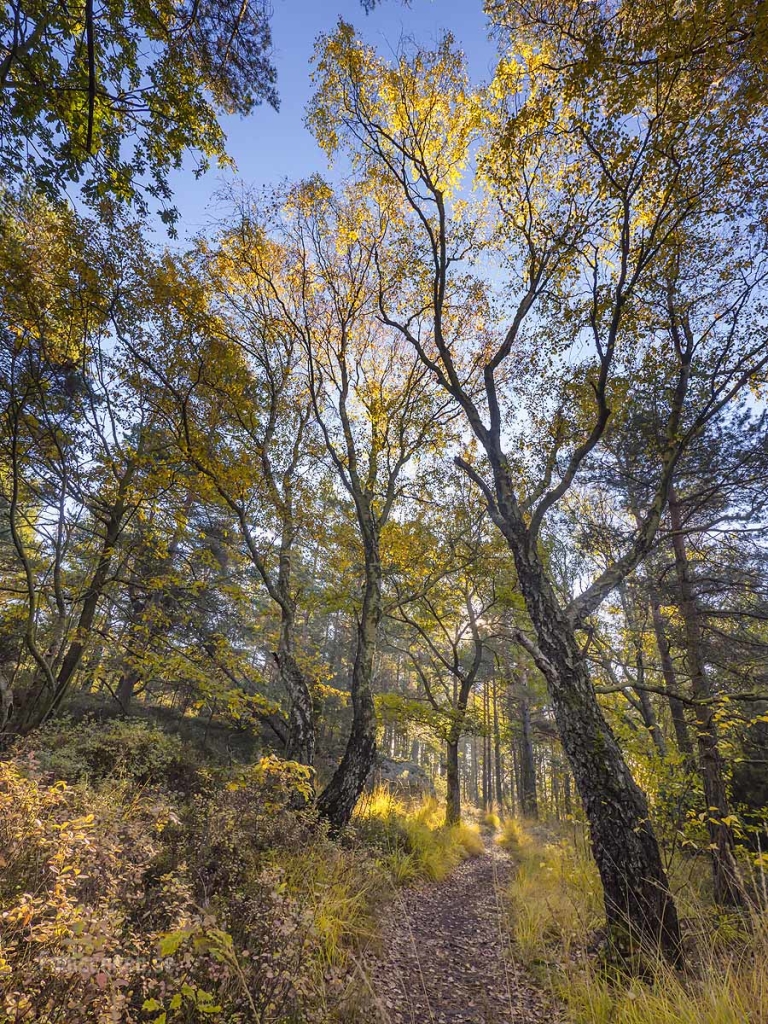 Strålande sol och höstfärger, då är det så klart läge att ge sig ut med kameran, men optimalt är det inte. Lite disigt och dimma som det var på morgonen är bättre egentligen. Det blev lite höstträd, vatten och utsikten från Utbybergen. Och höstlöv. Mot solen, med solen och med andra löv i bakgrunden… När jag var på väg hem hittade jag de här röda lövparet som jag kunde fota med motsvarande 600mm tele från två meters håll och få en gul bakgrundsoskärpa från ett träd på andra sidan vägen som fond. Snyggt tänkte jag och började plåta när vinden lyfte löven och jag hade två röda hjärtan på skärmen.
Där blev jag stående i 30 minuter och tog ett par hundra bilder, men jag blev inte nöjd. För hårt ljus och skarpa skuggor. Bild fem är den bästa därifrån. Jag gick tillbaka på kvällen och hoppades på ett mjukare ljus, men då var löven i skugga. I morse låg dimman tät och det var för mörkt, någon timme senare var solen uppe och det var fortfarande dimmigt, men det började släppa. Bild två är med trädet med de gula löven i bakgrunden, ca femtio meter bort. Vid det här laget hade jag vridit och försökt forma grenen så mycket att den gått av och jag fick staga upp den med ståltråd.
Men nu undrar ni säkert vad som är i bakgrunden på de andra bilderna. På den första är det en liten grävmaskin som åker förbi. Den gula pricken tror jag är lampan på taket, det gråa är fönsterrutan. Den är inte perfekt, hjärtformen kunde varit tydligare på löv nr två, men tajmingen måste väl ändå vara oslagbar? Den röda är en lastbil och den gröna är en sopbil.
Fyra promenader, en halv arbetsdag totalt och fem- sexhundra bilder. Lite knäpp är man nog.
Bright sun and the colors of autumn, it's a good time for a long walk with the camera bag, but it's not perfect. A slight fog and thin clouds like in the morning would be better really. I took pictures of the trees, the sea and the view from the mountain I climbed. And the autumn leafs. Against the sun, with the sun and with other leafs in the background… When I was on my way home I found two red leafs that I could shot with the long tele at 600mm and get a nice background blur of a yellow tree across them road. When I was firing away the wind lifted the leafs and I had two red hearts on my screen.
I was standing there for half an hour, but I wasn't pleased. The light was too harsh and the shadows too dark. The fifth picture was as good as I could get it. I went back in the evening, hoping for a softer light, but it was already in the shade. This morning it was even foggier and too dark. A couple of hours later it was still foggy but starting to ease up. The second picture is with the yellow tree in the background, some fifty meters away. By this time I had turned and twisted the fig so much that it was broken and I had too support it with a wire.
Now you're probably wondering what's in the background on the other pictures. The first is a small caterpillar passing by. I believe the yellow circle is the light on top of the roof. The grey area is the window. It's not perfect, the heart shape of the second leaf could be clearer, but surely the timing must be unbeatable? The red is a lorry and the green is a garbage van.
Four walks to shoot a couple of leafs, in total half a working day and five- six hundred photos, yeah, I'm a little nuts.